Two NSV's in One Day!
Saturday, August 24, 2013
I'll make this short. Yesterday was a great day for some NSV's. I was getting ready for work and decided to wear my comfy black yoga pants that look like dressy pants with the right top, a white tank, black tshirt and put on a zebra fashion belt. I haven't worn the belt in months. I slipped it around my waist and without even realizing it went past the usual hole and slipped all the way to the last one!!! Not only that but it was comfortable! My stomach wasn't bulging out...here is a visual: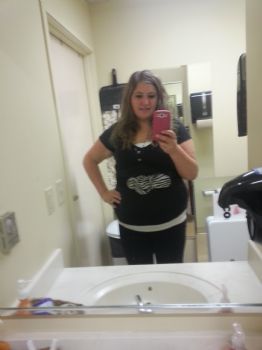 Woot! Then last night I decided to try on some old jeans to see if they fit me yet...I grabbed a pair slipped them on..they went all the way up! I couldn't button them yet..prolly 10 pounds away still but last time I couldn't even get them over my thighs!!! I started screaming and jumping and ran and showed DH. :)
They might not be big but they made me so happy and made my workout last night mean even more!
Have a great weekend everyone!