It's weird. Yes, I lived on the #SuperGreenDiet before (a way of eating, designed for my personal body/build/bloodtype) and I saw and experienced the dramatic results--yet is still shocking to be back on strict SGD for less than a week and get dramatic results.
I weighed a few days ago and wasn't surprised that I was in the 140s--I had eaten a number of sugar-free gluten-free cupcakes over a few weeks, had snacked on peanuts and almonds, a few Builder Bars, some nut/seed w/ chocolate Kind bars, a couple handfuls over sugary candy (Reece's Pieces, cookie dough bites, and a bit of Mint Chocolate with sugar) had even eaten ten or so palak paneer dinners, which were on sale at the market (knowing the dairy causes bloating and inflammation, for me), I had also had a big bag of Cheetos in July, and had stopped doing the yoga/Callanetics a few times a week. Naturally, when I stopped doing what works for my body, I lost some of my gains.
It isn't about my calorie counts, which may have been a bit higher than normal, it's that my body/build/blood type have huge inflammatory reactions to certain substances normally considered food. When I eat them, I get inflammation and belly fat ( a sure sign of insulin resistance and that my pancreas and liver are struggling). I know, for me personally, that a calorie isn't a calorie.
So, partly because my tastes have changed (and I'm developing #SGD approved treat recipes), I was able to go back to strict #SuperGreen a week or so ago.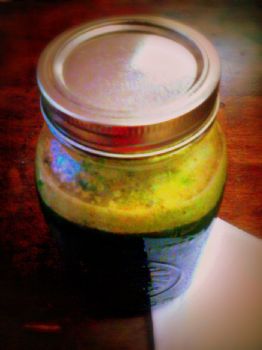 I have been certain to drink #SuperGreenDiet green raw, fresh juice every day and often twice a day, and added back in the Callanetics/yoga. I also resisted eating a sugar-free gluten-free cupcake last night, and instead ate a #SGD approved recipe that, when nearly doubled (with the dry ingredients at 1.7 and the wet double), makes a nice chocolate-brownie like treat.
I have also been tracking my nutrition, sauna and exercise with my #happymaking SparkPeople Android app, so there is no confusion about whether or not I am following the Super Green Diet and lifestyle regimen. Happily, quite rapidly, and still shocking (at the speed and relative ease that it occurred), I have released several pounds.
Today I weigh 138.75. I was super surprised. Truly!
Wahoo~* for the #SuperGreenDiet Jumpstart
Almond meal/flax seed/Chocolate cup muffin-brownie-hot cereal:
www.sparkpeople.com/mysp
ark/recipe_details.asp?nut
rition_id=67156725