Thursday, August 22, 2013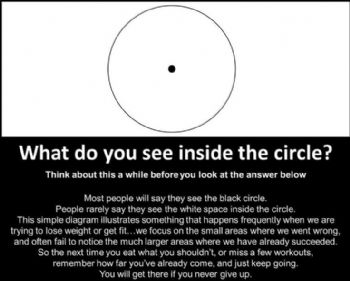 What do you see inside the circle?
Think about this a while before you look at the answer below
*
*
*
Most people will say they see the black circle.
People rarely say they see the white space inside the circle.
This simple diagram illustrates something that happens frequently when we are trying to lose weight or get fit... we focus on the small areas where we went wrong, and often to fail to notice the much larger areas where we have already succeeded.
So the next time you eat what you shouldn't, or miss a few workouts, remember how far you've already come, and just keep going.
You will get there if you never give up.