I know the title may sound misleading, as this is, indeed, a summer vacation blog. But I promise to explain everything in a while.
Summer vacation is over and summer itself is coming to an end. We're supposed to be feeling rested, re-energized, with batteries fully-charged and ready for winter, right? Well, this year that's not quite the case.
I could tell you that we had a great vacation, enjoying the woods in my mountain village and swimming at the beautiful beaches of Northern Greece – which we actually did, to be honest – and everything would look wonderful and sound like a dreamy vacation. But I would be lying…
Several things that happened, family issues, some people's attitudes, spoken words that hurt, worries that we didn't know how to deal with, all these things robbed our vacation of the most important thing.
In Greek, we have a word for it: xegniasia. It means having no worries at all. Just like the word "insouciance" but only with a positive meaning. Not indifferent, just worry-free. Isn't that what vacation is all about? It's about resting the mind, not just the body. It's about clearing our heads, emptying them of bad thoughts and things that burden us and getting back to "reality" with recharged strength and courage to face anything that life will send our way. This may sound too difficult and it is probably impossible to get rid of all worries. But vacation always helps and to some extent we manage to give our mind a break. For us, this wasn't the case this year. And what kind of vacation could be promising when it starts with an accident where my oldest daughter broke her front permanent teeth? She's ok now, she has a smile again, but we have a long road of dental therapy ahead of us.
But let me explain the title. My youngest daughter is a typical 8-year-old kid. Mind you, not a typical girl. She'd prefer climbing a tree to playing with dolls. And she always prefers playing to sitting down and having a proper meal. So, she usually ignores the first hunger signs and only pays attention to them when they're really becoming unbearable! One afternoon, while we were at the beach and after she had been swimming and diving for quite a long time, the sun had almost set and we were about to leave. So, she came out of the sea, covered herself in her towel, sat down on the beach and with a painful voice and a terrified face she exclaimed: "Oh, nooooo!"
"What is it?", we all asked.
"I'm hungry!!!", she shouted as if she had actually been starving for days! We all laughed and this became our summer family joke. Just before meals, someone would say it in the same desperate manner and we would all laugh.
That's one of the reasons I chose it as a title for this blog. The other reason is that this vacation left us with a feeling of hunger. For more, worry-free, real vacation. For some mind rest. For "xegniasia" !
But as with everything else in life, we'll have to keep the good moments and cross out the bad ones. And there were good moments. Maybe I wasn't in my usual picture-taking mood and I don't have many things to show you but there are a few pictures to share. And thankfully, the shadow of my worries is not visible!
Travelling with our bikes for the first time!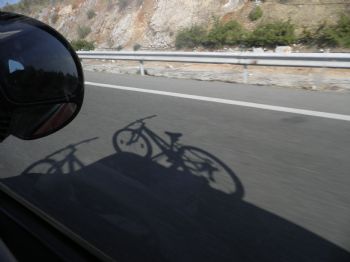 I should have paid more attention to the sky on that day. It was kind of foreseeing. Cloudy with a slight chance of sunshine!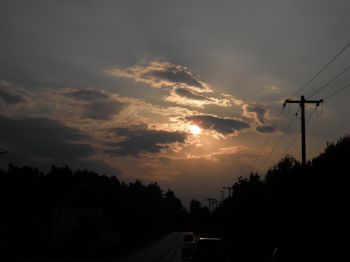 Discovering bike trails through the woods and the prairies.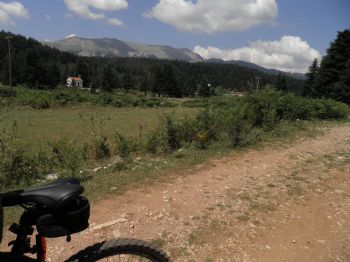 Water pit stops!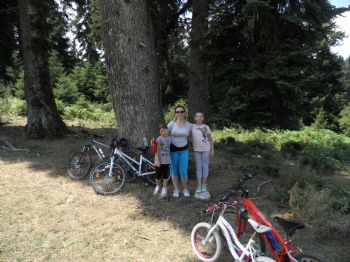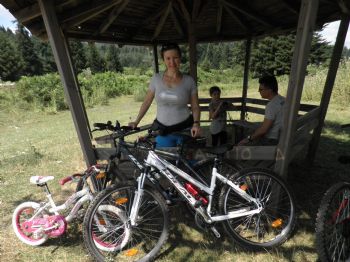 Exploring the underwater world just before sunset. We saw tons of fish, sea urchins and an octopus!
I left the sunset pictures for the end. They were just beautiful! That was the only time my photography spirit would wake up, grab the camera and get click-happy! I just couldn't resist to the colors of the sea surface. A water rainbow changing from turquoise to emerald green, to purple and silver blue, dancing around the golden trail of the sunlight!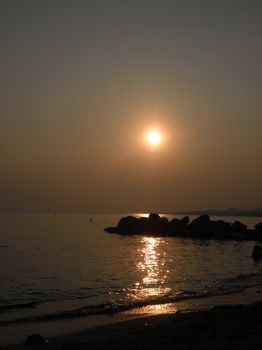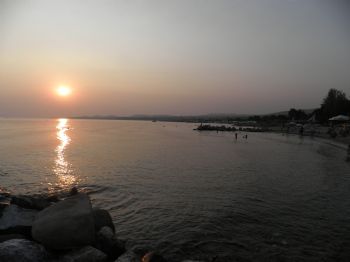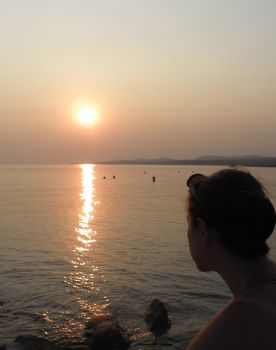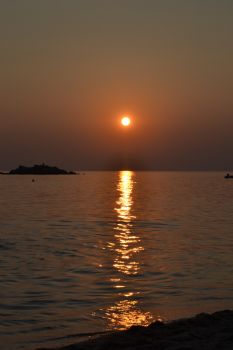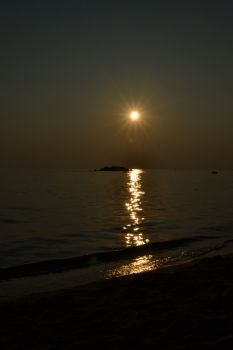 Thank you for reading! I wish your summer vacation has left you with tons of beautiful memories that will warm your heart throughout the winter. And if not, you still have time! It's never too late to cherish beautiful summer moments with the people you love. We don't need vacation to create memories.
All we need is smiles and joy.