Good morning Sparkers,
Food planned and tracked - Done
SparkPeople 11-Minute Seated Cardio Workout Video - Done
Soup of the day: Refried Bean & Barley. Here's a link to the recipe.
recipes.sparkpeop
le.com/recipe-detail.asp?r
ecipe=2531349
------------------
I'm reading 'The Beck Diet Solution' with a group in my 55+ Female team. Here's a link to the thread.
www.sparkpeople.c
om/myspark/team_messageboa
rd_thread.asp?board=19834x
9682x54330081&
Here is a summary of today's section and my response to it.
++++++++++++++++++++++
++++++++++++++++++++++
Day 7 - - August 21, 2013
Arrange Your Environment
++++++++++++++++++++++
++++++++++++++++++++++
Prepare your home and work environment by putting tempting foods where you won't see them - and by putting wholesome foods allowed by your diet in plain view.
Remove your personal temptations.
Rearrange your dishes so that the smallest plates and bowls are the easiest to reach.
Enlist the cooperation of others.
The book spends some time discussing strategies for enlisting the cooperation of family and coworkers.
The book also gives helpful responses for the following Sabotaging Thoughts:
If I make changes, I'll have to tell other people that Iím dieting.
I shouldn't inconvenience others.
If I tell my family or co-workers about my diet they'll make comments about what I eat.
I shouldn't put my needs above the needs of my family.
My family or coworkers will get mad at me for these changes.
I don't know if I really want to change my environment.
I don't want to waste food by throwing it out.
-----------
Commit in writing:
I will make the following changes at home:____________
I will make the following changes at work:___________
To-Do List:
Read Advantage Response Card at least twice per day.
Read other response cards for sabotaging thoughts as needed.
Eat slowly, sitting down and noticing every bite.
Give yourself credit when you engage in helpful dieting behaviors.
Make Changes At Home
Make Changes at work
------------------------
I did the work from today's lesson a couple of months ago. I have zero off plan food in my house, but it wasn't easy to get to that point. My partner is being wonderfully supportive. She would like to lose 20 lbs and left to her own devices she would probably just watch her portions and maybe try to get some extra exercise. She's following the same low fat vegan McDougall diet that I'm on to support me. She does indulge in occasional off plan eating if she has a lunch meeting or she's out of town which is fine with me. As long as she doesn't bring it into the house.
So even though I'm all squared away when it comes to arranging your environment, this book section still brought up a lot of stuff for me. I'm grateful for the support my partner is giving me but I feel guilty for asking her to do so much. It seems unfair of me to ask her not to have any food in the house that might tempt me. In my mind I should have the self control to resist any temptation and I shouldn't annoy and impose my issues on other people. I tell myself that if I was an alcoholic and I made it a rule that I didn't want any alcohol in the house people would think that was reasonable. So this is similar.
So when Dr. Beck started the section by saying she herself doesnít keep food in her office or car because she didnít always have the mental energy to resist urges, especially at the end of the workday, it made me feel better. I know there will be times when I'll have to muster up the energy to resist temptation but when I'm home it's nice if I donít have to worry about that.
Actually, all of the sabotaging thoughts listed at the end of the chapter felt very familiar to me. I can remember eating off plan food in a work meeting even though I had been dieting diligently because I didnít want people to know I was dieting. I had repeatedly told people about past diets and felt humiliated when I ultimately failed on those attempts and I thought it would be better if no one knew in case I failed again. I feel like I'm at the opposite end of the spectrum now, over-sharing my every thought and my weight and measurements on the internet.
So I made myself two new response cards.
"Eating food I donít need is just as wasteful as throwing it out, plus eating it causes all sorts of extra problems."
"Most people inconvenience by my weight loss efforts will ultimately benefit from the positive changes I am making."
------------------------
In non-diet related news. I finished yesterdayís art homework. The page is 11"x14". The quatrefoil shape was used for the frame. I cut it using a X-ACTO knife. It was only my second time to ever use an X-ACTO . I didnít slice my finger off Ė so thatís good. Hereís a snap of the final page.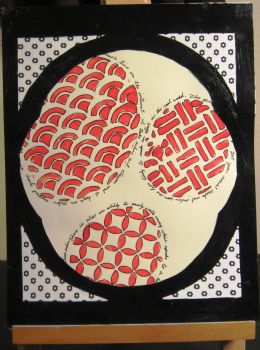 --------
One more thing on my mind this morning.
I have been a huge fan of Google. I'm a long time user of Gmail and I make good use of the calendar, documents, search, maps, etc. I've had a few qualms when I see ads targeted at me based on words I've used in my private emails or when I read stories of their cooperation with NSA. But it's free, and I have nothing to hide, and it's the most comprehensive service of its kind and did I mention that it's free? But they have serious irritated me this week with their new Compose email format. Its worse and it's not optional. Either make it better or make it optional. I'm guessing their motivation has something to do with making their products work across all kinds of platforms but I'm still plugging away on a laptop and don't care much about how their stuff works with other mobile devices.
I'm going to take a look at Zoho. The biggest obstacle I foresee is the shared calendar my partner and I use for scheduling. So Iíll be spending some time today investigating that possibility. Can you believe I have 30,078 emails in my Gmail account? Maybe it is time to move along and try something new.
I'll be back tomorrow.