Tuesday - net free day
Tuesday, August 20, 2013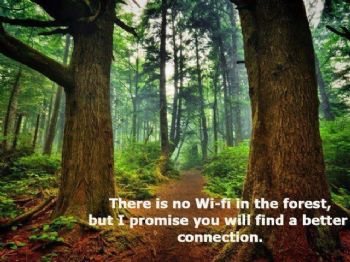 It's true! The internet went out this morning . . . and I was net-free for 7 hours. It was glorious!!! I'm gonna plan that into my schedule from now on.
Yesterday, I got really hungry mid-afternoon . . . but I had a lot of water and chewed a piece of sugarfree gum . . . and I made it until dinner (kale soup - yummmm). I ended up under calories yesterday, but I did not get hungry last night. But I had a horrible night, waking up. So I finally just got up at 4AM.
However, I am feeling surprisingly well today. I can tell my body is getting back into a happy place (rather than feeling fat and yucky) . . . and it's feeling good again.




I had my meals for the day planned out ahead of time so having no internet was not a bother. But I did miss out on checking in with my teams and SparkFriends.
Tomorrow, I'm having lunch with FIT4MEIN2013 . . . she is passing through the same town where I have an appt with my chiropractor. There is a great little restaurant there that has real home made organic foods. It is one of the only places I really like to have lunch. I'm really looking forward to meeting her . . . she has a remarkable story, so look her up! She has already given me such encouragement, just reading her story.
Time to stir the soup . . . DH will be home soon.
Hope y'all had a great day! Keep on Sparkin'