Ok, well it did rain on our parade, but that didn't stop us from having a great time! Rain held off until about 10:30 pm Saturday night, which was great.
This was our first time hiking on the Appalachian Trail, started just outside the southern end of Shenandoah National Park. We hiked about 8.3 miles in about 4 hours, with a stop for a break/lunch around mile 5. We crossed over a few (east coast-sized) mountain, so there was a lot of ascending and descending, with very little flat trail. We camped at Calf Mountain Shelter with another overnight hiker. Turns out he lives in Norfolk, so we exchanged info so we can meet up for more hikes in the future.
The rain Saturday night to Sunday morning was pretty steady. I woke up around 5am and I was wet in my tent! Water had gotten between the tent floor and the tent footprint, leaving a nice little puddle. Thankfully, I was on my sleeping pad, but my sleeping bag did get wet from hanging off the side. We got up around 7:30, made some tea and some oatmeal and packed up our wet gear. We followed our new friend back up the trail to his car. He started about 3 miles up the trail from where we started and gave us a ride back to our car. We could have done the other 3 miles, but because it was an out and back trail, we'd already seen everything and we got to dodge a 1 mile uphill in the mud.
I definitely overate on Sunday. More than enough to replenish the calories I burned. Had a footlong sub for lunch (yes, the whole thing), frozen pizza for dinner and ate the rest of the trail mix as a snack. It was nice to finish the day out watching a movie and being lazy before the workweek.
Some pictures from our hike: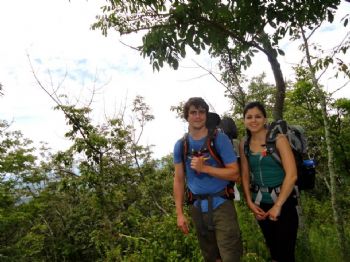 Us at an overlook with Waynesboro behind us (well, below the clouds!)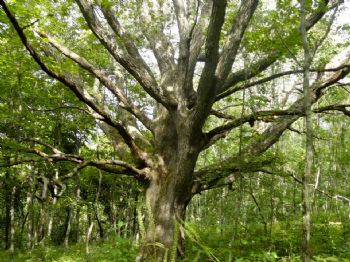 Giant oak tree in the middle of a skinny tree forest
Barred Owl that flew through our campsite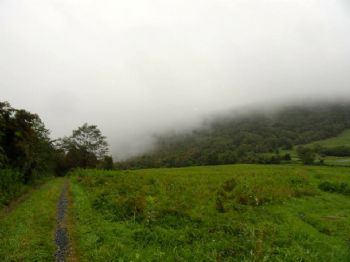 Lots of fog everywhere (and rain). This is from Beagle Gap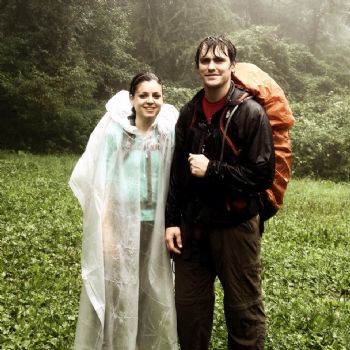 At the parking area after the hike (Yes, I know I look ridiculous in that giant poncho)