I got a call today for a second interview for 10:30 Tuesday morning! Yayyy! I am pretty confident that I will be offered a job at this point, mostly due to the fact that I have appointments set up with 3 people at this company tomorrow. I am super nervous and super excited at the same time.
When I spoke with the lady this morning, she said that she would send me a confirmation email with the names of the people I would be interviewing with and I didn't think much of it as I have had interviews before with multiple people...but when I got the email it turns out that I have 3 separate appointments. The first is with the director, then the lead talent support rep, and then with HR. I am thinking at this point that if it were *just* a regular interview, it would be with either one person, or everyone at once because by scheduling 3 appointments at a half hour each, adds up to an hour and a half of valuable company time.....?
*Deep breathing* it is what it is and I will just go in tomorrow and do my best to best to blow everyone's socks off.
The weekend was pretty good, Saturday night was kinda rough, I didn't sleep well due to my asthma...every time I started to fall asleep and breathe deep, I started coughing. I probably should have used my inhaler, but I try not to use it at night because it makes me jittery. In all honesty, I try not to use it at all...just like my other medications.
Sunday we all got up early and headed to the train station and took the train to downtown Chicago, my beau has never even been through Chicago...he grew up in a military family and has been to a million places, but somehow missed THE lake, lol! We came out of Union station and walked down the block and took a look at the Sears Tower....I have seen it many times in my life, but always from the highway, this is the first time I stood near it. Its impressive to say the least, haha! We didn't go up because we are still budgeted pretty tightly (hoping to be able to get a car in a few weeks), but it will give us a reason to go back downtown.
We walked almost 2 miles to get to the zoo, it wasn't too bad but my lungs were still giving me a hard time and my brother in law is a fast walker, my sister kept yelling at him to slow it down a bit.
I don't know how far we walked all together because my phone battery is stupid but I estimated it to be around 5 miles with the walk to the zoo, then walking around to all of the exhibits. We walked slow, but it was about 5 hours of walking.
My sister finally had enough of walking in her sandals and we just got a cab back to the train station...which is good, because I don't know if I could have pulled off another 2 miles back. My hip joints were screaming by this time and my calves were actually twitching when I sat down...I even took an extra half of a pain pill last night and everything from my waist down felt so heavy this morning but I have loosened up some throughout the day....enough to get out and do a little maintenance on my bike this afternoon.
I noticed that my bike seemed to be getting harder instead of easier and noticed that the tires looked a little low the other night....they were at about half air!
Still working on my goal of going 365 miles this year, I bought a little dry erase board to keep in my room...its right next to the tv so I can see it each night when I am settling down for the evening. I update it for the week on Saturday nights.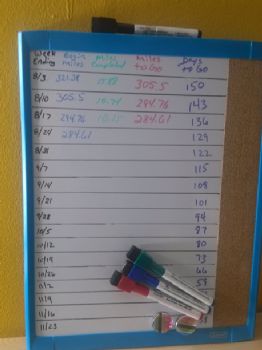 I wanted to get one a little bit bigger so I could put up messages and notes to myself, but with the beginning of the school year, the only ones they had left were these and the gigantic ones, lol, my sister would probably not be pleased if I drilled holes in the wall to mount a big one!
Since its 11pm now and I am SUPPOSED to be trying to get to sleep so I can be well rested for tomorrow, I will leave off here now and try to lay down quietly even though I am too keyed up to sleep!
Take care and love yourself.