Hubby and I did some yard work, right?
He's 53, I'm 46.
Aches and pains are going to happen when you're not in your 20's, right?
Sunday morning we woke up feeling like we were in an accident and nobody told us. I was having abdominal cramps worse than when I was in labor! every joint hurt. felt constipated and diarrhea at the same time. moving any more than we had to was so out of the question. Our lower backs were still sore this morning. He stayed home from work and he has a desk job. We walk like we're in our 80's and beyond!
We have no idea if this was a virus or just old bodies complaining about the forced manual labor. Neither one of the kids have shown any signs of it, but then they didn't get sick on our day trips a few weeks back.
If it was a virus .... oh my! I'm feeling so sorry for anybody that gets it.
If it was old body throwing a temper tantrum ....... well it's just going have to get over it. Cause next weekend we going to finish up the "cleaning of the fence" .... whether our bodies like it or not!
But you know we didn't really do that much. I used a hedge clipper, he was using a hand saw, but was only cutting branches from 3 inches down to what the clipper couldn't get. All the clippings was loaded onto the wagon and pulled around front. Now when I saw wagon, I mean a yard wagon, my birthday and mother's day present. Thing rolls like a dream! I've pulled 200 hundred pounds with ease! So I don't think the pulling of the clipping got us hurting this bad. And we took breaks! and it was cool. Drank lots of water.
One of my sparks friend said that there was an article about a stomach bug that was going around, so maybe that is what we had. ...... I feel so sorry for anybody that get this! (I think I've said that already.)
So my past two days has been a whole lot of sitting and playing Sims3. don't know if I ate good or not. Don't care. Steps for yesterday was 2443, today (at 8:34 pm) I have 2331. I'm worn out and ready to go to bed so i doubt if I get very many more steps in.
I woke up early this morning ... (might have had something to do with the pain) went out side .... and just sighed. It was AMAZING!!!! It was around 7:30 ish. Still and quiet, the air kind of foggy and sleepy. dew was still on the ground. All of the spider webs were frosted. I so enjoyed it!!!
And I took pictures of Katie walking around checking everything out.
this first one, on the left there is still some of the green growing on the fence.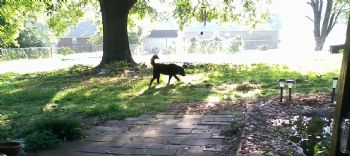 this is the good side of the fence. now vines grow on it.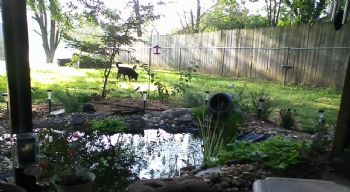 I hope your week is off to a wonderful start!

Becky