Monday, August 19, 2013
First off, week recap.
3/7 days on-track food
3/7 exercise
2lbs lost
It just goes to show that weight loss is a funny thing and sometimes it doesn't immediately show your hard work. I had worked so hard the week before and maintained, but obviously this week it caught up. Despite the "bad" week as far as food an exercising goes. This week I expect gain given the not on track week and it will be TOM.
Sunday and Monday my sis was still in town, so we were in total vacation mode, dining out etc. Which, on Sunday included THE BEST brunch I'd ever had. We split a duck confit eggs benedict (fancy shmancy, I know) and french toast with ginger butter. oh. my. god. Monday, my sis who's a regular foodie and quite the chef (not her actual profession, but she does cook fancy things a lot) made me breakfast, well actually I did help. We had gone to a farmers market on sunday and gotten fresh fruits. We made home-made biscuits from scratch with warm peaches and blackberries and turkey sausage on the side. um yum. That night I was still in vacay mode so the bf and I went out to dinner.
Tues/Wed/Thurs were my only on track days. By friday was the concert, and you saw from my post yesterday how Friday and Saturday turned out. womp womp.
Anyways, today is Day 7 of my 30 days of gratitude in pics.
Day 7: Something funny.
Oh boy lol. My every day life, i.e., work, is really not that amusing. I have a hilarity board on Pinterest but those are not my pictures. My cat however, makes me chuckle almost every single day. Case in point: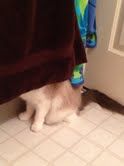 When she attempts to hide...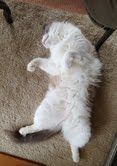 When she imitates me after a hard workout...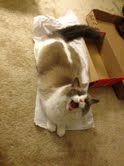 and this...I don't even know. I can't look at it without smiling

I love her dearly!