Another Week Down
Monday, August 19, 2013
Nothing to much happened this week except for one new recipe that I tried in my crockpot. I made a spinach and lentil soup from a recipe
I found on the Internet. I've never had lentils before and I found a bag of organic green ones at the dollar store this week. So why not try something new for a buck! It came out very good and a bowl of my soup came in at about 150 calories.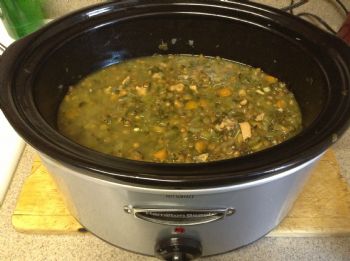 I did a lot more Zumba on my Xbox and Zumba is no joke! I really do work up a sweat and my make shift dance socks from an old pair of socks really have made all of the difference. Soon I hope to unlock the zumbathon level. It feels really great to be exercising again after not being able to. I've also been treating my feet a lot nicer lol. Many more pedicures and foot soaks, even if its just a quick soak in the shower by stopping up the tub. I read somewhere that if a person were to walk 10,000 steps everyday, by the time there 70 it would be like walking the circumference of the earth 4 times or something like that. Makes you really appreciate your toes a lot more.
Maybe next week something more exciting will come up to report, but for now I'm thankful to have a new week to look forward to.