Friday's Josh Groban concert...there are no words. Seriously, one person shouldn't be that talented. This is going to sound so corny, but it's amazing to me how there are few moments in life that can affect you so much with that much emotion. At the concert, the music just filling my very being, it was almost overwhelming. It was just incredible. *sigh*
And on that note, I am so grateful to have experienced that. I missed posting yesterday so today I have both Days 5 and 6 of 30 days of gratitude. Again, look at previous blogs to see my full 30 day pic inspiration.
Day 5: Morning sky. This was supposed to be from Saturday but 1, I slept in a little bit and 2, it was kind of crappy out. This is the substitute picture I chose: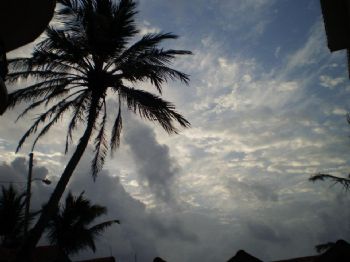 Last summer the bf and I took a trip to Belize, and on our last day we stayed on the island of San Pedro, where we were supposed to go snorkeling. It stormed too badly so we couldn't. Sometimes in life you get disappointed, that was one time I was pretty sad. But the rest of our trip was amazing I couldn't complain! Early the next morning when we were leaving the sky finally started to clear, which is that picture.
Today is Day 6: Books. I appreciate books now that I'm older but when I was younger I wasn't a reader. I think I just couldn't sit still for long enough and it had to be REALLY interesting. This pic is from our bookshelf in our apartment: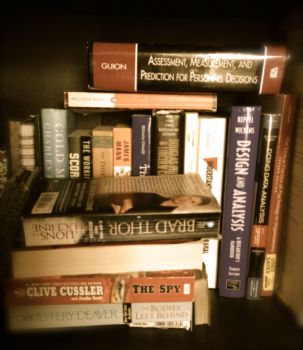 If you can't tell, it's mostly graduate school text books. lol two psych majors = lots of stats. Other than that we borrow books from our family, both of our fathers enjoy a lot of thriller/law/mystery type books so that's probably what we have the most of. I have a kindle too, but sometimes it is nice to doggy-ear pages to come back to :) (not the same as bookmarking on the kindle) One of the best books hands down that I've read recently is Gone Girl by Gillian Flynn. Read it. It balances the rare line between being truly suspenseful but also well written, many many "I did not see that coming" instances. Just well done. Also, they are turning it into a movie so you best read it before you see it.
As far as food/fitness goes, Friday at the concert this is what I consumed:
Delicious, but not exactly on track. I also didn't have time to work out. Also, the bf took the picture. That is the sign of a good boyfriend who strategically cuts the picture to flatter your arms

Yesterday, I wish I had saved this Pin (damnit Pinterest, why can't you see Pins you've sent to others?) but it was a picture of an ape looking crestfallen and it says "Spent $200 on healthy groceries, then ordered pizza because I was too lazy to cook them." Yup, that is exactly what happened. lol
Today I'm back on, let's make it a good week!