Now for the rest of the story. I really received some object lessons during my triathlon that I wanted to pass on before I got into yammering on about the technical aspects. As I mentioned in my previous blog, The first 30 miles of the bike course were relentless and brutal. Two hills in particular were merciless. By the time I hit the big one at mile 23, I was pretty much out of gas. Mind you , I did not train on flat and fast terrain by any stretch. Those hills at the race are to be respected.
I got about 20-30 yards into a 1.5 mile steep climb and my legs seized up. Hard cramps in quads, hamstrings and calves and I was forced to dismount. Mentally I had been pushed to a place that I had never been before. I had heard stories about moments like these but never really experienced it until now. I got a taste of it during my marathon in 2011, but this was a full course meal.
Of Courage:
Moments like that strip you down to the raw. There is no "fake it 'till you make it". All pretense is stripped away and you are forced to face yourself on the barest level. I was borderline panic because I knew that time was slipping away along with my dream of finishing, and then there was the pain. All I could do was just stand there in the rain. I had fallen behind the pack and reality was setting in. The only sounds I could hear was the downpour hitting the leafy canopy above me. It was dead quiet. No cheering, no cowbells, no companionship from other suffering athletes. I was totally alone.
I wanted to quit. I could feel my throat choking up from the anxiety to where I could hardly breathe. I was almost sobbing and I was alone standing in front of what looked like a mountain that threatened to take away all I have ever trained for.
It was at that moment that I decided to march. I had no other options and I could not let my dream go for the temporary relief of the SAG wagon that I knew would be there soon, patrolling for stragglers. My carbon soled cycling shoes are not meant for walking. It was the most awkward experience ever, hobbling up the side of the hill, pushing my bike in a race where the clock was ticking. Every step was like torture and I knew i was destroying my shoes but I had no choice. It was that or give up.
I made it to the top and experienced a personal victory. I wasn't the fastest but I was the most determined. Like I figured, if I had quit and given in to the voices screaming in my head, i would have recovered myself in the SAG wagon and would have lived with the fact that I could have gone on and finished only if I had allowed myself to recover on the course. It is intense when you are going through it but you can recover quickly enough where you can snap back and continue on if you are willing to change your expectations..
Take away lesson: There will be a moment in your journey when you will be in the same situation. You will be alone and facing your mountain, with no workout buddy to prop you up, and no support. You will be at the end of your rope and doubting if you can hang on. It is in that moment that you must make your choice. You must forge on in spite of every feeling you have because feelings are temporary. The regret of quitting is forever and will define you for the rest of your journey. I firmly believe that if we quit often enough, it can be a learned behavior. Once a certain level of difficulty is reached, our heart reaches for the eject button. I lived like that for a long time and that is why I never seemed to make it past a 20 lb weight loss until one day I quit quitting. It's good to have friends, support, and a positive environment but your determination had better rise above all of that for those moments when you will face your Goliath.
Of Compassion:
Once I got into transition to get ready for the run, I was in fight or flight mode and was not thinking very clearly. They were going to let me continue and all I could focus on was getting the heck out of there. In the process, I had misplaced my running socks. I said forget it and went without socks. That proved to be the greatest tactical error of the whole event. My shoes were soaked from the all day rain and my feet were sliding around.
Sores and blisters.
By mile 6 of the half marathon portion of the event, my heel was rubbed raw and blisters were starting to form. Every step was like dipping my foot in liquid fire. It was about that time that a support vehicle that was fully stocked stopped by and asked if I needed anything. I was desperate and I asked if they had any duct tape or anything I could wrap on my feet. She shrugged for lack of options but then offered her socks. I figured it was a nice gesture but lets face it, I'm a guy, I have size 12+ feet and she is a girl and probably wears much smaller socks but I was willing to try ANYTHING. At this point, it wouldn't have mattered if they were hot pink Tinkerbell socks or some other equally ego destroying configuration. When you are desperate, anything is a gift from heaven. She stopped and took them off... they FIT! and instant relief set in. I doubled up both socks on my bad foot and moved on, thanking her profusely.
Her socks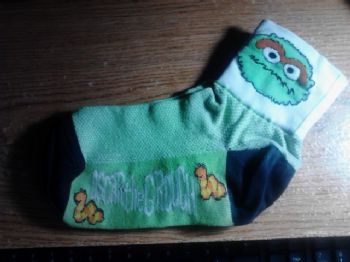 I wore those socks proudly through to the finish line..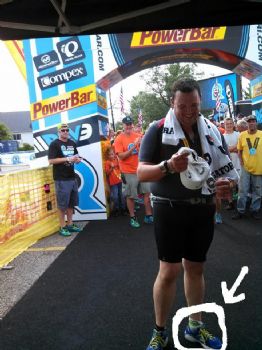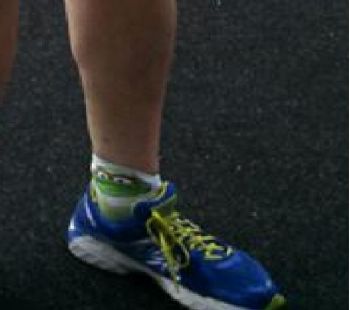 Take away lesson: Her simple act of kindness, that may have seemed very small at the time, probably saved my race. No act of compassion is too small or insignificant. If you are willing to gut it out and endure, your help will come to you but you will never know what that is like if you condition yourself to giving up every time a certain level of discomfort is reached. To see the miracle, you must forge through the darkness first.