Picked up my packet on Wednesday for the race on Saturday. Nice colorful tech T-shirt was included.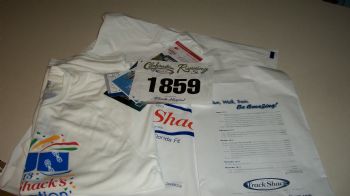 This race was very close by. About 15 minutes from home, so I didn't have to get up too early. It started at 7:30, and we left home early at 6:40 or so. Found a parking space very close to the race. It was a big race, there were 2,400 people registered, and I wanted to get there early enough to find a good parking space. That worked out well.
I got a free cup of coffee and after sipping on it for a while, I did a quick warm up run. I was ready to run, even though I immediately started perspiring. The temp was only 78F but the humidity was intense at 89%.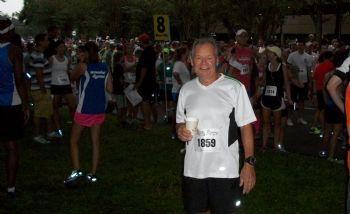 I squeezed in between the 9 - 10 mm runners groups. Very crowded. We were so far back, I couldn't hear the National Anthem playing, or much from the announcer. I did hear the start horn, though.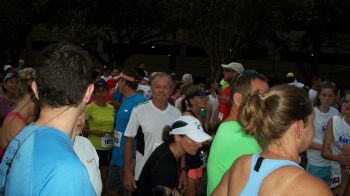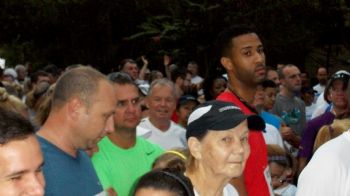 It took a long time to walk to the start line, but eventually I got there, and started off with a slow jog due to the crowd. Had the usual weaving in and out, which forced me to go out very slowly. Not a problem, I wasn't anticipating a quick race anyway.
It was so crowded in my speed group that it never really thinned out. I passed the first mile clock at around 10:40 and that was fine, because it was clock time, not chip time. I was doing fine. I was very aware of the humidity, and was perspiring a lot. My HR rose to around 175 during the second mile, and stayed up there for the rest of the race, going over 180 a few times. I was pushing pretty hard by then.
Pretty good crowd support, lots of yelling "almost there" after mile 2. Then someone shouted "after this corner you'll see the end - push harder, you can do it"! He was right, as I rounded the corner I could soon see the finish line. And I saw the clock 29:40 and the announcer was screaming "if you want to get in under 30 minutes now is the time, run hard", and I did - passing over the mat under 30 minutes I was sure. Then the relief came when I remembered that was the clock time, not chip time.
Wohoo, I would be well under 30 minutes. And considering the difficult weather conditions, I was already happy with my results.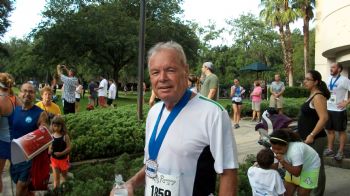 Got my ribbon. Every participant got bling on this one. Cool ribbon, too.
Grabbed a bottle of water and tried to remain upright as I caught my breath. DW was supposed to get a picture of me crossing the finish line, but I wasn't optimistic. She never sees me. And being so crowded a race, my lack of optimism proved to be correct. She was still at the finish line, camera in hand and looking worried when I found her. She didn't realize that I'd finished minutes earlier.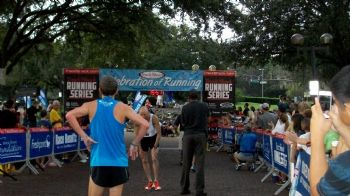 So we left to find something for me to eat. I wasn't hungry at all, but wanted to be sure to eat something within the magic time window for maximum glycogen absorbtion.
Took a few more pictures - checked my stats on the board. I ended with a chip time of 28:28. Not bad at all. Not enough to win an AG award, but a good time just the same.
Fun race, nice people and some sweet bling, too!
Thanks for reading and have a great day.