Friday, August 16, 2013
Eating clean can be fun!! Tonight, I decided to have buffalo chicken. I made a gluten free version topped over "french friend" potato with reduced fat blue cheese. And as a side was a HUGE salad with 1/2 serving of reduced fat blue cheese dressing. It was delicious and it so felt that I was cheating. I was technically over calories by 300 for the day but you know what, everything was healthy. I did have a light beer with dinner and a couple of pieces of chocolate after dinner however I feel great about today's choices.
Here's dinner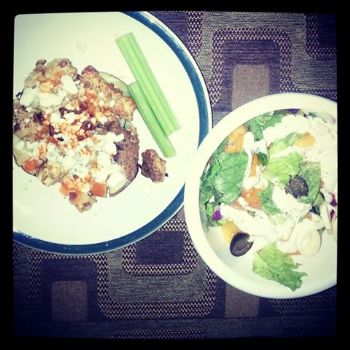 Thank you Pinterest for the ideas that I made my own!

I started my transformation on Wednesday. I have done pretty well and this morning I stepped on the scale. I was down 2 pounds! YAY!
The weekend is going to be hard because I always feel like I need to "relax" by eating whatever. However, I can stay strong. I will stay strong this weekend!!! :)

On a side note, I started a Plank challenge at the beginning of the month. I'm still going strong and today I held it for a whole 2 minutes!