Friday, August 16, 2013
Hey friends, happy Friday!!!
You can look at previous blogs for my inspiration on this 30 day photo gratitude challenge, but today is day 4.
Day 4: Leaves. Really random might I add. I feel like I'm slightly cheating on today because I didn't take a picture of leaves for today. But, I searched my phone/fb pics and found this one from when I was living up in Mass: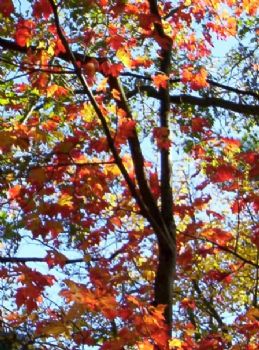 Autumn is just around the corner! And if you're a Pinterest addict like me it seems like its already going full blast on there. Everything is boots and sweaters and pumpkin recipes.
I used to hate fall only because I loved summer so much and I don't like being cold. Now I really do love fall, and in the spirit of this challenge, I am grateful to still be living in a place where we have seasons and fall really is beautiful. But, I am also one not to rush the seasons, so while I'm excited for it to come, you'd better believe I'll be wearing my flip flops for as long as I can!

Going to see Josh Groban tonight in concert!!! 2nd time!!! So excited!!!!