As Requested a Pregnancy Progress Pic
Friday, August 16, 2013
So, here goes nothing. I have had several requests for me to post progress photos of what I look like at this stage (about 8.5 months now). This picture was taken last week. I insisted to my husband that I wouldn't set foot in front of a camera unless I had on some nice clothes and makeup! LOL! I'm totally embarrassed by all the weight I have gained with this pregnancy.

But, I guess afterwards, I will have a pretty big goal to reach.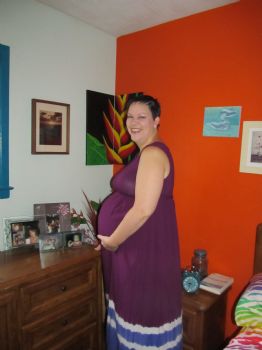 I was doing really well for a while about sneaking in exercise here and there and eating healthy. Well, in the last couple of months, I have just not felt good. My eating has been sporadic at best due to horrendous heartburn and exercise is just plain hard to do with the lack of energy. I have been fighting off a cold this week too which just doesn't help. Have had some family issues to deal with as well, so my motivation to do much more than get by these days is lacking. I'm still working full 8 hour days and we are still racing against the clock to get everything ready.
And wouldn't you know it, my baby "dropped" this week. My understanding is it's not too terribly long after that, that a little baby makes his/her way into this world. I'm really to a point that I am so tired of worrying about the little stuff; I just want my baby to be born healthy and SOON! I'm so excited to meet this little tiny human!!!
I apologize for not being a better spark friend lately. I have taken the time to read some blogs, but I haven't necessarily commented on them. This time has just been so hectic for me and I'm sure it won't settle back down for a long time. Just know that I do care about each and every one of you and I hope you don't give up on me. I already have big plans for restarting my weight loss journey once I am healed and adjusted to some degree after giving birth. So, please don't give up on me! I will need your support more than ever when that time comes. Have an amazing weekend!