Good morning sparkers,
Food planned and tracked - Done
SparkPeople 11-Minute Seated Cardio Workout Video - Done
Soup of the day: Vegetable Noodle. Here's a link to the recipe:
recipes.sparkpeop
le.com/recipe-detail.asp?r
ecipe=2516329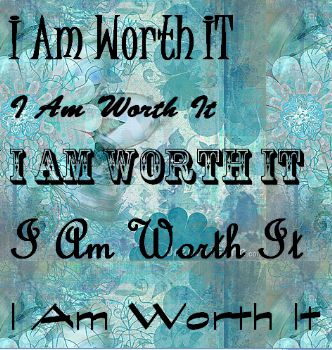 ----------------
In my blog today I want to cover two topics that are kind of in conflict. On the one hand I'm going to share some work I'm doing in relation to using cognitive therapy to change eating behavior. Then I'm going to respond to a writing prompt from my split team challenge group and write about the topic of food addiction.
I'm embarking on a six week adventure to change the way I think about food and eating using cognitive therapy. But honestly, I think the obesity epidemic is the result of the type of food we're eating. I don't think the explosion of human obesity is the result of an increase in neurosis. Our great great grandparents were not more emotionally stable or insightful. Our generation is not lacking in will power. What's changed is the type of food in our environment.
Let me share a brief excerpt from the book, "The Pleasure Trap" by Douglas J. Lisle & Alan Goldhamer
From page 81 of the paperback:
"Many authorities assume that weight management is 'psychological.' It is often stated that one must learn to set the fork down between each bit of food or remain calm so as not to eat for 'emotional' reasons. However, the evidence strongly suggests that subtle psychological mechanisms are not the key to weight management. Rats will maintain ideal weight under all sorts of stressful conditions, if eating a healthy rat chow. However, if bread and chocolate are available as desired, the average rat will increase its body weight in fat by 49 percent within just sixty days."
Just like the bunnies and mountain goats that roam the wild places on our earth, our bodies automatically know the correct amount of food to eat to maintain a perfect weight and excellent health. This exquisite mechanism has been short circuited by the unnaturally rich food that is pushed on us by corporations wanting to make profits by turning inexpensive foods like sugar, salt, & fat into products we will buy. Think about what you can grow in your own back yard and how often you are tempted to over eat those types of foods. Feeling stressed, upset, or tired doesn't really make you want to eat more peas, carrots, or broccoli.
-----------------------
I'd like to share a webpage that has an interesting chart on the difference between a normal eater, an emotional eater, and a food addict. The website pushes for food addicts to work a 12 step program which doesn't appeal to me as an atheist. But I did find it interesting because in their recommendations they state that moderation will work for emotional eaters and abstinence will work for food addicts. We've had some discussions recently in my 55+ Female team about moderation verses abstaining from trigger foods and how different things work for different people. This chart/website offers an explanation of why moderation works better for some and abstaining works better for others. I've shared that abstaining from trigger foods works well for me and I have long believed I had a chemical food addiction. Anyway, here's a link.
foodaddictioninst
itute.org/fundamental-conc
epts/normal-eater-emotiona
l-eater-food-addict/2011/01/
Even though I believe I am addicted to unnaturally rich food and abstinence will take care of the problem, if a little cognitive therapy will help me get through the withdrawals and not relapse, then I'm going to practice the techniques I'm learning.
Here is the assignment for the 1st day of the 6 week reading work group using the book 'The Beck Diet Solution' by Judith S. Beck Ph.D.
+++++++++++++++++++
+++++++++++++++++++
Day 1
Record the Advantages of Losing Weight
+++++++++++++++++++
+++++++++++++++++++
Today we will create Advantage Response Cards, an essential part of the Beck Diet Solution program.
How will weight loss impact the following?
Your love life, friendships, family, career, and social life
Your energy level and participation in hobbies and recreational activities
Your body, health, self-image, and mental outlook
Copy all of the advantages onto a 3x5 card, or a business card if you prefer.
In addition to carrying your cards with you, you might want to put the list into other places like the following:
Turn the list into a screen saver for your computer
Program your e-mail to send items from your list as a pop-up message at regular intervals.
Copy the list on sticky notes to put on the bathroom mirror, refrigerator, or car dashboard.
Post the list on the inside cover of your diet notebook.
Read your list at least twice per day.
Come up with a reminder system for reading your list.
Commit in writing that you will read your response cards at regular times and also commit to the reminder system you plan to use.
----------------------------
I, Letha Anderson, do hereby commit to read my Advantage Response Card at least twice per day between August 15th & September 30th, 2013. I have set up a twice daily reminder on my Google calendar to read the card.
Here is a snap of the card and my first Google reminder that I got this morning.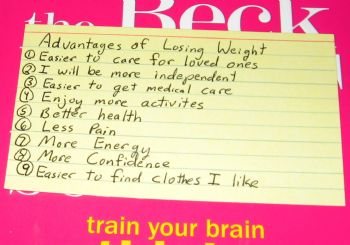 ===========================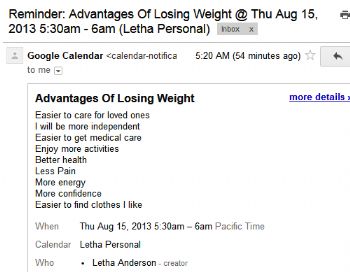 ==========================
And I think that is enough for today. I'll be back tomorrow.
Letha