I've been eating a really healthy diet since joining SparkPeople last year. I thought I'd show you what a typical day's food looks like.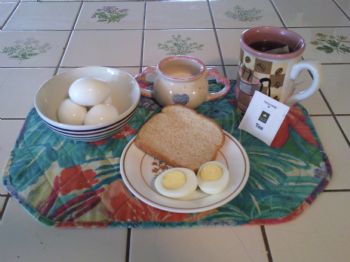 For breakfast I usually have one egg and one slice of whole wheat toast (forgot to toast it for the picture). I keep eggs hard boiled in the 'fridge so I don't have to cook when I first crawl out of bed. I make an egg sandwich without any butter or mayo. It's dry at first but you get used to it and now I love starting the day with all that great protein in an egg. Nothing beats the incredible edible egg. I drink hot tea with a teaspoon of sugar - I've never really cared for coffee. That's about 200 calories for breakfast.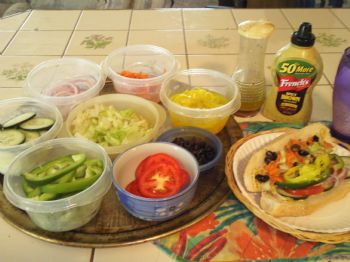 Lunch is almost always a veggie sub. I keep all the veggies cut up and ready in little bowls so I can assemble my sandwich in a jiffy. I use cucumbers, red onion, tomatoes, green pepper, shredded lettuce and carrots, banana peppers, and sliced black olives. I use spicy brown mustard on the hoagie roll and top the sub with a little olive oil and red wine vinegar dressing that I make myself with Italian seasoning. That's about 300 calories for lunch. I just adore my veggie subs.
I have about five go-to dinners such as baked fish with a hot vegetable, homemade chicken noodle soup (minus the noodles - lol) , 4 ounces of chicken minus the skin with a hot vegetable, or 4 ounces of beef or pork with a baked sweet potato without butter. The baked salmon with broccoli is my favorite. The salmon is farm raised and comes frozen in individual portions (2 pound bag of fish for $10) There are 6 pieces per bag. I spray it with olive oil and sprinkle it with lemon pepper then bake it in my toaster-oven at 400 degrees for 20 minutes. I LOVE it ! That's about 400 calories for dinner.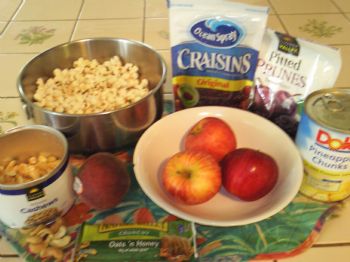 I have a snack in the afternoon of fruit - either fresh (usually an apple,peach or banana) or dried like cranberries, raisins, apricots, or prunes, or canned like pineapple or mandarin oranges. My favorite thing to eat in the entire world is cashew nuts so a treat myself with them once in a while. Every evening I invariably pop a 1/4 cup of popcorn kernels in a tablespoon of canola oil on top of the stove. It pops up to 3-4 cups of popcorn and I have to share some with my puppy, Jasmine, before I add salt. I don't think microwave popcorn is as healthy because of the added chemicals. Making it yourself is also LOTS cheaper. I allow about 400 calories a day for snacks. I admit it - I'm really a grazer.
So that stays within my range of 1200 to 1550 calories per day. My problem is staying away from the alcohol in the evening. Alcohol takes my WAY over my calorie range. That's where my problem lies. I know this. Alcohol is so tempting to me. I need to be alcohol-free and drink water in order to continue losing weight to reach my goal of a healthy BMI.
What did you eat today?