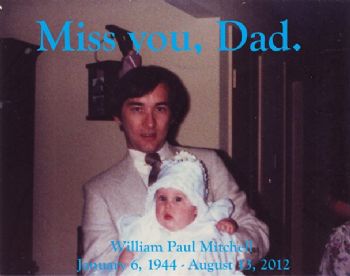 My Dad died one year ago today at around 2pm EST of a massive heart attack.
I miss him every day, but remember him in my heart and in the words that come out of my mouth at strange times. When I was young, my dad and I used to go into NYC to see a matinee on Broadway. Every time we would walk out of Penn Station he would look up at the skyscrapers and say, in a thick hick accent, "GAW-LEE look at them tall buildins'!" (Now, my dad was born in Atlantic City, NJ and lived in NJ all his life, so tall buildings were not odd to him, he just liked to be goofy, and I loved that about him.) So today I'm remembering him.
As for figuring MYSELF out... every time I spend time with my birth mother, I realize more and more how much of my personality comes from her. It strange actually. My strength, my ability to just keep on trucking no matter what happens, comes from her. She said something that really struck me. We were talking about how upset people get about certain tragedies, how full of rage and despair people get. I mentioned how I am saddened by these events, but move on from them rather easily, particularly because they usually don't affect me personally. She said she's the same way, "because there isn't a damn thing we can do about it." Meaning, we can do nothing to go back in time to prevent these things from happening, so we just need to move on.
I wondered this morning why I am not more distraught today, why I was not disabled with heartache from missing my dad. And I realized, it's because there was nothing I could do about it. It wasn't my fault, and I couldn't have prevented it.
THERE IS NOTHING I COULD HAVE DONE.
So I move on.
My step-mom has chosen to almost cut ties with everyone she knew. I drive by the street where they lived EVERY DAY on my way to work. I'm still living my life. I have to. There's no other option.