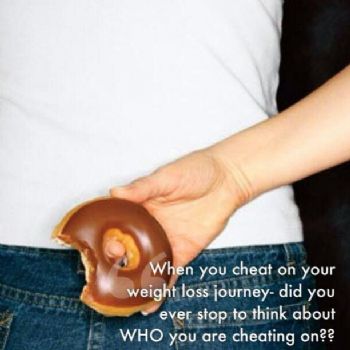 Consider this - if you wouldn't stand for someone you love being cheated, why would you stand for cheating yourself?
My experiences so far with moderation instead of deprivation and choosing to eat healthy foods instead of diet foods and dieting has been a very positive one.
Part of the reason I do not feel so restricted is that I do allow myself a treat each day - however it has to be included in my daily caloric allotment, which means it is usually something like a single serving Kozy Shack Tapioca or Rice Pudding or a Hunt's Snack Pack Fat Free Chocolate Pudding (and the choice for fat free is because in this case it means no hydrogenated oils).
I want to share an important distinction about moderation instead of deprivation and what it has to do with trigger foods (those foods that, if you have them in your house, you will consume the entire amount).
Trigger foods are an exemption to the moderation instead of deprivation practice simply because if I cannot trust myself to be able to take a portion and be satisfied with it - then it has no place among the foods I consume.
For example, I rarely choose to have potato chips because it is very hard for me to feel satisfied after a serving - and all too easy to justify having a second.
However, and this is where the difference is for me - if I do choose to have them - it is from a single serving size bag (and for the record, think about just how hard it is to find a "single-serving" size bag or container). Then, because there are no second servings available because the bag is empty - I seem to have an easier time being satisfied.
Do you have any trigger foods that you choose not to consume?
What foods do you enjoy as a daily (or weekly) treat?