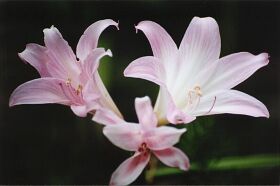 We have pink naked ladies in our yard. "Where flowers bloom
so does hope." Lady Bird Johnson, Public Roads: Where Flowers Bloom
They are lovely. American Meadows says "This gorgeous flower has many identities: Belladonna Lily, Naked Ladies, or Belladonna Amaryllis. This plant produces green, leafy growth that emerges in spring and dies back by mid summer. In late summer, leafless stems produce elegant, pink flowers. (Amaryllis belladonna)"
Our local nursery had a huge sale of plants, but they refused to sell me any. I have killed 5 different plants over the past 7-10 years. They don't trust me to keep their plant/flower alive. They told me to take a soil sample to the local ag agent.
Well, I can hold my head up cause I have 3 naked ladies in my yard. They actually bloomed. Oh were you thinking I was talking about real pink naked ladies dancing across my yard in full fatness?
From Cape Contours landsacape experience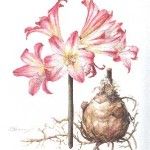 "Amaryllis belladonna in its natural habitat is found in small dense groups among rocks. Therefore the best place to plant them would be in a rock garden. In the garden, Amaryllis can be used mixed in between blue Agapanthus as a good combination, as the evergreen leaves of the Agapanthus provide skirts for the naked ladies. They can also be grown between a ground cover or mixed annual or herbaceous border."
Here is a link to a nice poem called 12 Naked Ladies
www.skywriting.net/inspi
rational/poems/12_naked_la
dies.html
"Flowers always make people better, happier, and more helpful: they are sunshine, food and medicine to the soul." -Luther Burbank