(Yes, my blog title is to get your attention; but, if you stick with me for a moment you might understand why I wanted to grab your attention like this.)
Have you ever seen a contortionist? They bend and move in 'freaky weird' ways that look inhuman, while still being graceful and artistic and interesting. They grab your attention as they show how different they are from most people. Do you know why contortionists often perform as a family? Because the way to be a true contortionist is to have a genetic condition and train starting at a young age. The condition is called Ehlers Danlos Syndrome (or a similar condition like Marfan Syndrome).
I grabbed your attention so I can talk to you about Ehlers Danlos Syndrome, aka EDS. Even if you have heard of this condition or believe you know what it is, give me a moment to give you a little information. I'll try not to overwhelm you while giving you the chance to understand us zebras.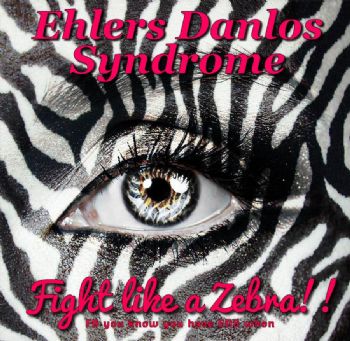 Zebras? What? The EDS community has adopted the zebra as our mascot and our awareness color. In medicine there's a saying: "If you hear hooves, think horse not zebra." This tells doctors to assume that a patient's symptoms are from a 'normal' condition instead of a 'rare' condition. EDS is a rare condition (all 17 forms together have an occurrance of about 1 in 5,000 people) where nearly every part and system in the body is affected, so our doctors need to stop looking for the horses and start seeing us for the zebras we are.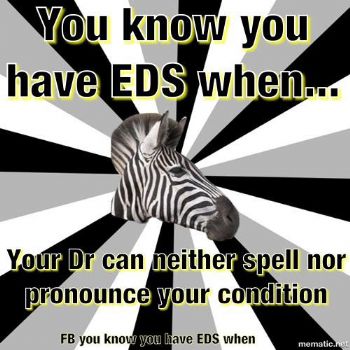 If you've heard of Ehlers Danlos, you've probably heard that it means the person has flexible joints. Doesn't sound that difficult, does it? It actually sounds fun - you can be the life of the party because you can bend in weird ways! Unfortunately, there's very little fun about EDS. Every system and part in the body is affected. Think about that: EVERY SYSTEM AND PART IS AFFECTED.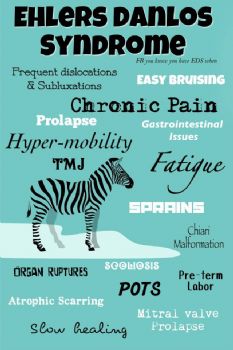 (Click for full sized image:
www.facebook.com/photo.p
hp?fbid=211631438987115&se
t=pb.194657800684479.-2207
520000.1375700192.&type=3&theater
)
This is only a short list of the effects of EDS. Ehlers Danlos is not just a joint condition - it is a collagen disorder. Collagen is the glue that holds the body together; there are many types of collagen, but it is in nearly every part of the body: skin, muscles, ligaments, tendons, blood vessels, the sack that holds each organ together, it is in the connective tissue that holds the organs where they should be in the body, and essentially your entire body is held together by collagen. If it has a place in your body, it has something to do with collagen.
(Click here to see full sized image:
www.facebook.com/photo.p
hp?fbid=212523398897919&se
t=pb.194657800684479.-2207
520000.1375698784.&type=3&theater
)
This means when the glue holding the body isn't working properly, the body falls apart. Joints dislocate and subluxate, skin is stretchy and/or extra soft, blood vessels and organs can rupture, the body's organs move out of position far more than they should, and the body's systems get 'out of whack'. There are about 17 forms of EDS and each form affects different types of collagen and sometimes in different ways. While one person can pull their skin away from their body with ease, others can bend their joints far more than normal, and others are at serious risk of rupturing organs and blood vessels with little or no warning. Since Ehlers Danlos is genetic, it is incurable (there may soon be the chance to genetically engineer out the defective DNA that causes it before conception through IVF, but trying to change the DNA throughout an entire body is currently impossible). It is also progressive, worsening as the person ages and as damage is cumulative (such as daily dislocations of some joints). How many times can you pull a rubber band before it breaks? We can ask that question about our joints.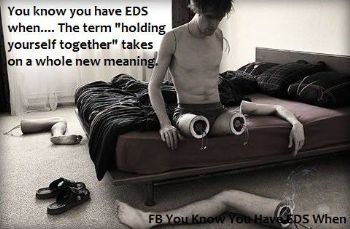 Unfortunately, because this condition affects what's inside the body, it is not always visible to those around us.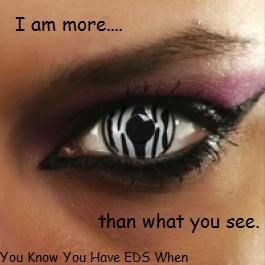 As our bodies break down, the few treatment options are only supportive: surgery, braces, and mobility aids like walkers and wheelchairs frequently become a part of who we are, often well before 'our time'. I'm 32 and I use a walker and 6 braces. Some people end up in wheelchairs by their 20s, 30s, or 40s. Many endure dozens of surgeries before they reach middle age.
Since we can't use braces all the time (it would cause muscle atrophy), most doctors are hesitant to perform surgery until the problem becomes serious (there's only so many times you can tie a rubber band back together before you run out of space), and using a walker or wheelchair in a house can be more trouble than it's worth (like walking 20 feet to a bathroom), there will always be times when we can't avoid problems. Nothing like waking up to a dislocated rib, wrist, hip, or knee. Just getting out of bed can require the 'hand bone connected to the arm bone' form of anatomy lessons.
Or on a good day we can try doing a simple task, like walking to the mailbox, without using a mobility aid. Sometimes that's okay, but just by losing focus and taking one wrong step we end up in a world of hurt.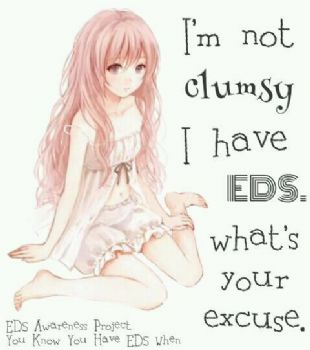 Some days it might be impossible for us to function. If we use our energy to make dinner we might not have enough energy to actually eat it. Getting out of bed, putting on clothes, and walking into the living room can require a nap to recharge. Some days our symptoms can be mild enough to run errands or even hold down a job; for some of us those days are few and far between. Many of us weren't diagnosed until we went from being 'okay' enough to appear normal, to being unable to ignore the symptoms. I wonder if I had known earlier, would I have been able to take it easy on myself so I wouldn't be incapable of working by 30?
(Click here to see full sized image:
www.facebook.com/photo.p
hp?fbid=216583455158580&se
t=pb.194657800684479.-2207
520000.1375699622.&type=3&theater
)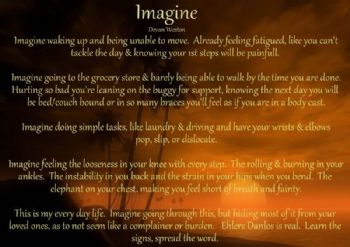 (Click here to see full sized image:
www.facebook.com/photo.p
hp?fbid=216403598509899&se
t=pb.194657800684479.-2207
520000.1375698770.&type=3&theater
)
People who knew us before often think we'll get better and be back to who we used to be. Eventually they forget about us. Others try to understand but become overwhelmed by knowing we must change what we focus on in our lives in order to make it from day to day. Some of us have the support of our loved ones and a few friends to take care of us; too many of us have no one (me included).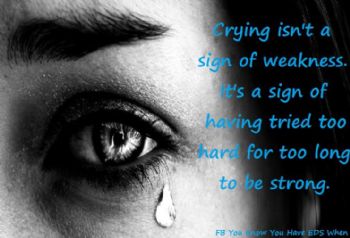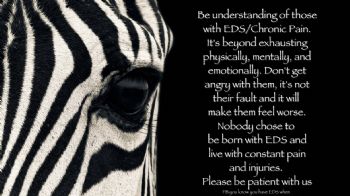 (Click here to see full sized image:
www.facebook.com/photo.p
hp?fbid=214556682027924&se
t=pb.194657800684479.-2207
520000.1375698780.&type=3&theater
)
We zebras fight every day to overcome our challenges. We endure not only our symptoms, co-morbid conditions, and the ignorance of those in the medical community who don't understand us, but we are challenged by people who are prejudiced, inconsiderate, and ignorant to our plight. We need people we can count on to help with the little things, to support us when we need it, and to remind us that we are loved and valuable. Sometimes we need someone to pick us up and help us move forward.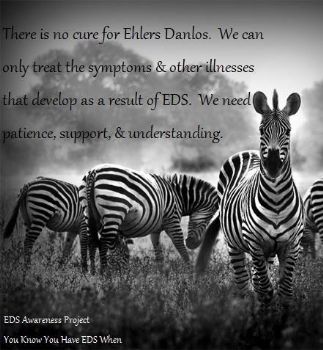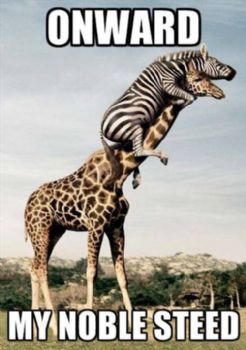 It hurts to be judged and berated by people who stare, comment rudely, or ignore us when we ask for help. We are discounted when people tell us "that isn't possible" or "but you look fine". Some of my fellow zebras have had terrible things said to/about them by a person who refuses to pause and learn our truths.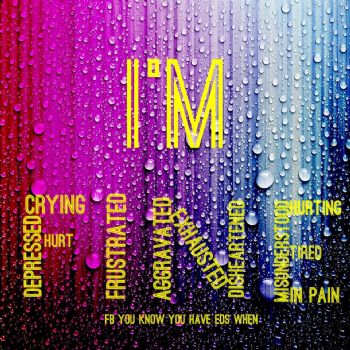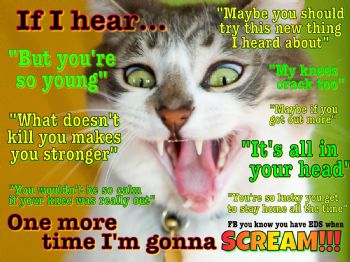 (Click here to see full sized image:
www.facebook.com/photo.p
hp?fbid=204520789698180&se
t=pb.194657800684479.-2207
520000.1375699971.&type=3&theater
)
Through it all we must endure. We must fight. We must adapt. We must learn. We must forgive. We must ask for help.
We need your awareness.
If you want to know more about how Ehlers Danlos affects me, please ask. You can also search YouTube for Ehlers Danlos to see many people tell their stories and share their truths. Help us raise awareness to ease the struggles of so many zebras. (Gently) hug a zebra today!