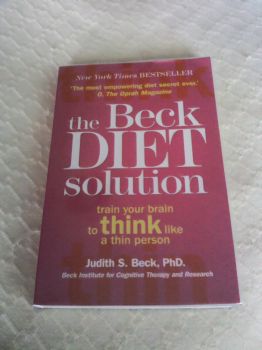 On the 55+ Females Team we have a group that is going to go through the Beck Diet Solution book. It was started by Letha a Team member and we have joined in.
It is not a Diet book that tells you what to eat it is Congnitive Therapy, in other words a way to identify your sabotaging thoughts and how to respond to them. This will help you stop doing the negative things that crop up and teach you ways around them.
We start on the tasks in the book on 15th August, right now we are going through the first 4 chapters. Then we start on the tasks for the next 6 Weeks starting with Chapter 5 week 1.
Here is a link to the thread
www.sparkpeople.com/mysp
ark/team_messageboard_thre
ad.asp?board=19834x9682x54330081
I borrowed the book from my local Library as I cannot afford to buy it. I have chosen to use a journal as I have found that we are to make Response Cards and I like to have things to hand in one place. Have a look here at what I will be doing.
fat-or-fit.blogspot.co.u
k/2013/08/the-becks-diet-s
olution.html
No doubt a lot of the things will be similar to what is here on Sparkpeople but some will be different and will teach me ways to overcome problems and find new ways to do things.
If doing this means I have new tools to work with then I will give it my best and do all the Tasks.
I will make mistakes I am aware that it is up to me and that I am responsible as to what I eat.
I also know that I need to accept that I have to put the work into this to get the best from it, but if it helps then I am prepared to do just that, put in the work needed.
So far I learnt a lot and I have only read 2 Chapters. We are looking for more people to join in, so have a look at the thread and if it peaks your interest come and join us there is plenty of time.