Saturday, August 03, 2013
The last few days have been a bit up and down. after my last blog I believe I was being too confident and the wagon was going too fast. The inevitable happened and I fell dramatically off track and it took 24 hours until I was comfortably back in the saddle! A visit to the Cotswolds to help out my Mum, and the knowledge that my weigh in was only 3 days away helped me stay focused. I always associate Glos as an easy place to stay in control as mu Mum is like Old Mother Hubbard and eats like a sparrow!! So temptation is limited!
I returned home to Bovingdon on Thursday afternoon! 2 1/2 hours in a sauna ( ie my car which has no air conditioning) 33c all the way, meant I managed to lose 2lbs and hit a grand total of 10lb weight loss at my weekly weigh in!! (Next week should be interesting!!)
Since I have been back it has been a struggle and I think I had better aim to stay the same this week!
Yesterday was our 33rd wedding anniversary and we had a great lunch at the Waffle House.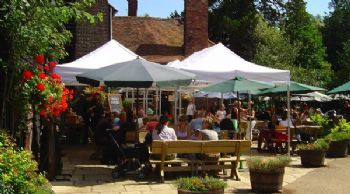 I managed to stay in control and damage limitation was achieved. The weather was great and a happy day was had by all. It is my birthday on Tuesday so the beginning of August has been fun but challenging when it comes to weight loss!
Today has been a struggle (I stayed up really late catching up on 'Who Do you Think You Are' so I am knackered with only myself too blame). Return to normality and serious dust and grime recognition have set in!
My daughter has arrived from Bristol and gone off to London for a friend's Hen party!! Happy Days!
It is her Hen Do next Saturday - I am looking forward to my aromatherapy massage and pedicure!! The Italian meal afterwards should be yummy!
So it a case of staying in control of the wagon at the moment as the road gets bumpy and tricky. I am enjoying squeezing into the next size down and hoping to stay there!!