As I have mentioned in previous blog posts, my hubby and I started to really count our calories to accompany our exercise routine since we weren't seeing any results from just exercising. Well, we decided to start counting our calories mid June and I had lost 2 pounds in a week.
Well, we decide to weigh in monthly, so I was really excited to see if there was a difference with the new eating habits that we incorporated the whole month of July. Well, lo and behold, I stepped on the scale on August 1st, and I had lost 7 POUNDS!!!! I had to step on it again just to make sure I wasn't seeing things.
I am now 202 pounds! 2 pounds from ONEderland!!!! Woohoo!!!!
I started out this journey at 220 pounds so overall I have lost 18 pounds to date! HOLY CRAP!!!!! THAT IS SOOOO AWESOME!
After not seeing the scale budge with our exercise routine, we now know that eating healthy along with exercise is a MUST to see any changes.
My hubby lost 13 pounds this month!!! He is super excited as well! Well, this proves that what we are doing is right and we must keep on keeping on!
We both hold eachother accountable for what we eat.....I have learned that since I am a woman, I cannot eat as much as he can calorie wise so I cannot eat the big portions like him like I used to.
But, yeah, HAPPY DAY!!!! Hope everyone has a wonderful weekend!
Here is my starting "before" photo at 220 pounds: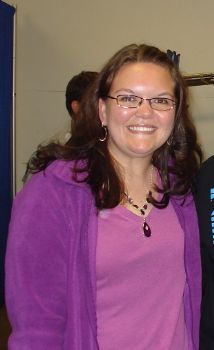 Here I am 18 pounds lighter at 202 pounds: