Hey everyone! I miss you all so much. I have been in Drama City the past several days and I am finally up and running again. I have so many things to update you all on, the biggest thing probably being my computer being hijacked, me being scammed, and the cost of stupidity.
Over a month ago I came home to find my personal laptop blinking a message that my cable provider had suspended my internet service due to copyright infringement. I was floored. I called Cox Cable and they tell me that over the course of two weeks, they had received 18 copyright violations on my router. Supposedly someone hacked into my router and had been illegally downloading and selling movies. The agent helped me reset my entire system and added some extra security to my modem/router. I hoped that would be the end of it. Well earlier this week I come home from the gym and Derrell says our computer is acting crazy. I look at it and the computer is completely black with the exception of a Department of Homeland Security Cyber Division notice. As I begin reading the notice, my computer begins screeching at me, "We have been blocked. You must pay the $300 fine to avoid further prosecution." The notice also has a screen shot of my fiance embedded in it. It says we face further prosecution for violating Federal Law yada, yada. Long story short, because of the 18 violations we received in June when someone hacked into our system, I assumed this is legit and my a$$ is in trouble for something I didn't even do! I pay the fine and the next day I find out it is a new, advanced scam and that my computer has been overtaken by more hackers and a crazy virus. Not only did I pay the "fine" but I then had to pay $100 to have my computer debugged. I was so disappointed and angry but also thankful that I won't have to be someone's bitch in prison.
A week ago I had my bridal shower and it was SUPER FUN!! I loved every minute of it. My sisters did such an excellent job. I went with a Stepford Wives look and even baked fresh, homemade cookies right before the guests arrived. Here was my look for the day: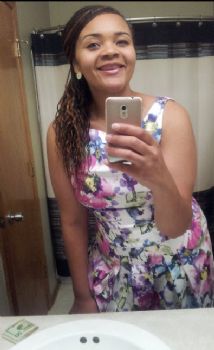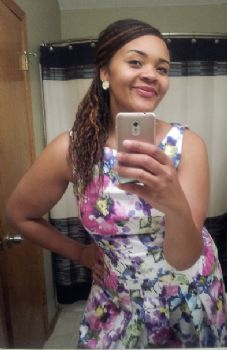 My wedding is now five weeks away and I have been hellbent on toning and tightening this body up. I have reduced my running greatly because I found that while I was dropping weight, my body fat percentage increased by over 5%. Over the past several weeks, I have been concentrating on building lean muscle. With that came a 10 pound weight gain!!! I went from 215 to 224.6!! I nearly passed out and it happened so fast. At the same time, I began losing some inches. The next week I was down to 220, which is where I am currently at. SO I have gained 5 pounds. I haven't changed my ticker because I believe that if I continue with my high intensity workouts and continue with the strength training that I will make my way back down sooner than later and I will be a much better looking 215 pounds. Ironically, I had my dress fitting and the seamstress is taking my dress out one inch. At first I was miffed but when I looked at the fit when I first got the dress, I had a lot more back fat hanging over the back of the dress than I do now and the dress didn't feel as comfortable as it does now. That extra inch will just allow me to dance more freely and look good all the way around.
Before I go, a quick NSV: yesterday Derrell and I went to the football stadium and spent 40 minutes doing sprints up the stadium steps and jogging the track. We immediately left that and did an hour in the gym. During that hour I got on the cord machine and worked my upper body. I must say, there is a LOT more definition in my upper body! I was shredded (under the loose skin

). AND I am now able to comfortably walk around in the short spandex shorts and tank top in public. YIPPEE!!!
So happy to be back! Have a fabulous weekend Sparklers!!