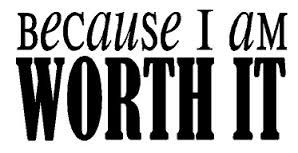 A Spark friend and FFF Team mate posted this
www.sparkpeople.com/mypa
ge_public_journal_individu
al.asp?blog_id=5440074
Now it is my turn to state why I am worth it
I always hid away and never thought that I was worth bothering with. I ate to make myself feel better and convinced myself that it did not matter that I was fat.
The reality was I did care about my weight but felt trapped in the cycle of yoyo dieting and decided to stop that and just eat what I wanted.
Then after a bad marriage and a divorce I eventually met someone who really loved me and encouraged me to be who I am. My self esteem grew along with my self confidence and I decided it was time to shed the pounds.
Dieticians gave me pages of foods to avoid and very little else. I worked hard to lose weight but gained it back plus extra the yoyo dieting was back and I felt awful.
I found Sparkpeople and the rest as they say is History. Blogging has helped me lot and so has being part of Teams and their Challenges. I have learnt that I Am Worth It and it is not just words I truly feel it.
I have times when things go wrong and I feel down, times when I gain or the scales are stuck, times when I am tempted to comfort eat and times that feel like giving up.
It is then that I look back and see how far I have come and decide that I will not undo all the hard work I had put into things because I Am Worth It.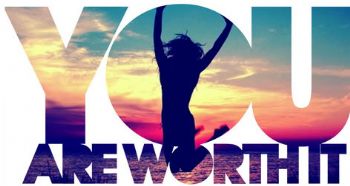 You Are Worth It.
www.youtube.com/watch?v=
jLQiieWYyy8
I am making this promise to myself that I will not give up because I Am Worth It
Now if you believe you are worth it. Put this on your blog and sign it.
I am worth it!
I am going to do everything I can to make this a healthy life.
because I am worth it.
I am going to look at myself and see the good inside
because I am worth it.
I am going to get off the couch and make my body alive
because I am worth it.
I will say to myself every day words that make me feel good
because I am worth it!
I will not let anyone make me feel that I am not beautiful
because I am worth it.
No matter my size, my nationality, my ability to read or write
I am worth it!
I may not be a genius, but I am smart and I can shine
in this world as a special, one of a kind person
and I am worth it!
signed on this day August 1st 2013 by Paula Ward ( 160 pounds) I am not afraid to put this and next year I will sign it again with a smaller amount of weight.