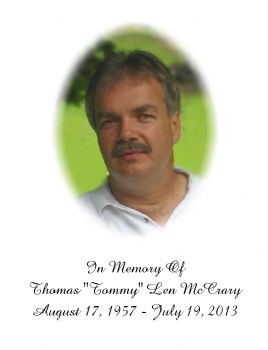 My house is finally quiet. I'm not sure if that's a good thing or a bad thing. I do know that as much as I appreciated everyone who was here, I am somewhat relieved that they have all gone home. They all meant well in their attempts to keep me from being sad, but anyone who has lost a loved one knows that is not possible. Everything just felt so chaotic to me with friends and family in every room of my house, all telling their own Tommy stories, some laughing, some crying, and all the while thoughts spinning through my mind, just longing for some peace and quiet to process all that had happened so quickly. Now I have the quiet I so badly wanted and I'm left alone with all those thoughts and trying to find a way to deal with the reality that Tommy is not going to walk back through the door. Everywhere I look, I see Tommy's things, his empty recliner, his cell phone, pictures on the wall, his racing memorabilia, his laptop computer, his clothes hanging in our closet. I knew this time would eventually come, but I had no idea it would be this soon.
Thor had such a hard time the first few days as he had also lost his best friend and it was immediately obvious that he knew something was terribly wrong. He would lay on his bed and whine for no apparent reason. Only constant petting seemed to somewhat help until Tommy's barber saw me at the funeral home. She asked how Thor was doing as Tommy always talked about him. When I told her about my concerns, she recommended me giving him some of Tommy's unwashed clothes. When I arrived home that night, I went to my bedroom and retrieved from the hospital bag the t-shirt that Tommy had on when I took him to the emergency room. I put it in Thor's bed with him and after a couple minutes of sniffing it, he laid on it and went to sleep. He seems to be comforted by these items and continues to sleep with the t-shirt and also Tommy's neck pillow that he used in his recliner. Thor's doing much better than he was, but he still has his moments of whining for no apparent reason.
My sons and stepsons have been incredible through all of this. My youngest son, Jeremy, told me last week that I needed to get away from everyone and relax a few days and that he was taking me away. I was unsure about leaving, mainly because of Thor, but my older son assured me he and his friends would be here at my house to take care of Thor and encouraged me to go. Jeremy picked me up Friday morning and drove to Savannah, Georgia, a place that Tommy and I really loved when we stopped there last year. We spent three days there and probably walked more miles in that time than I have in the last three months. It was nice and I have to admit that it was a good escape for a few days but I felt somewhat guilty about going. Tommy and I had talked about visiting Savannah again this winter for a few days and enjoying it without him just felt kind of wrong. I felt a little better, however, when my stepson told me Tommy would want me to keep traveling, taking pictures and enjoying my life. I know in my heart he is right, but this is going to take some time.
My wonderful supervisor told me to take whatever time I needed before returning to work, but I went back night before last. My co-workers have been so supportive and some questioned me returning too soon, but the truth is it felt good to be back instead of sitting here in my quiet home. Maybe someday things will start to feel normal again, or maybe not. Because this is the long weekend off for the rotation I work, I am driving up to West Jefferson today to visit my aunt and uncle at their vacation home. It's going to seem weird going up there alone. Tommy and I have spent many weekends up there because he loved it so much, but it will be nice to see them.
Thank you all so much for all of the nice notes and messages. I will eventually get around to answering you all, but it may take some time. Just know that I have read each and every one of them and I truly appreciate your thoughts and prayers.