GRATITUDES
1. I am thankful for payday tomorrow! Do I really need to expound on this? Haha.
2. I'm thankful for goals met. My goal for July in my new business was to enroll a certain number of customers. I was just ONE short of that goal last night. I admit, I felt a bit bummed about that. But, after a night of good rest, I woke up feeling refreshed and ready to take on a new challenge - August. It was like the old had gone and the new had come. In fact, I enrolled two new customers within the span of an hour this morning and that means I'm already 1/4 of the way to my August goal...on Day 1. Success! Weeeee!
3. I am thankful for my friend, Lorayna, who recommended that I read the book, "Embraced By the Light" by Betty J. Eadie. I finally got around to checking it out from the library and I read it tonight in a span of 3 hours. WOW! It was a quick read, but there was so much to contemplate!!! I was amazed by the book's beauty and warmth. It is almost unbelievable, and yet, I want to believe. I just feel like I'll be processing this one for a long time.
Here's a sample of the book, to whet your appetite. :)
"If we understood the power of our thoughts, we would guard them more closely. If we understood the awesome power of our words, we would prefer silence to almost anything negative. In our thoughts and words we create our own weakness and our own strengths. Our limitations and joys begin in our hearts."
JOURNAL
I had an impromptu lunch with my friend, Christina, today...who I call my "Asian sister". She has been in Hawaii for several weeks visiting her boyfriend, so I haven't been able to spend time with her for quite awhile. It was lovely just talking and catching up and laughing. She is probably one of my closest friends on this earth. And I just thank God for her all the time.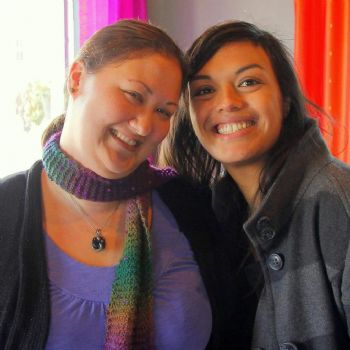 EXERCISE
Got it done. Check! :)
MEDITATE
Geez, that book was deep!
Here's another nugget for ya:
"We are here to learn, to experiment, to make mistakes. We don't need to judge ourselves harshly; we just need to take life one step at a time, not worrying about other people's judgment of us, nor measuring ourselves by their measuring sticks. We need to forgive ourselves and be grateful for the things that help us grow. Our most severe challenges will one day reveal themselves to be our greatest teachers."
I keep thinking of my goals...for my fitness, for my personal life and relationships and for my career(s). For quite some time now, I've been itching to really think about my goals and put together a "positive affirmation". This is something my nutrition counselor recommended I do to re-train my mind to go after my goals.
Basically, you think about the results that you want to see in yourself at a certain point of time in the future. Then, you write out a short paragraph of how you expect to be different after you've reached your goals at [such and such a date]. But you write it in the PRESENT TENSE, as if it is already true.
Here is an example:
"It is August 1, 2014. I have a successful home business and I am earning $XXXXX per month. My weight is XXX lbs and my body is healthy and running on healthy foods, mostly fruits and vegetables. I have a great relationship with my kids and my boyfriend. Etc etc etc."
You then read this affirmation to yourself every single day over and over...until you begin to memorize it, until it becomes a PART of you. In theory, you will begin to fulfill your positive affirmation.
In some ways, I think that sounds like a bunch of new age bull. But, what is positive psychology anyway? Isn't that kind of what this entire experiment is about??? Training my brain to think in a different way to increase my happiness and success?
We are two weeks in and I will say I think this is working. Achor said we could re-wire our brains and it would help us to bounce back from adversity more quickly. I mean, not meeting my July goal was not what I'd label as "adversity"...but I will be soul-baringly honest with you guys...I worked REALLY hard in July. I REALLLY REALLLY wanted to reach that goal before midnight last night and I did not reach it. There was a period of time where I saw my dream fall away and I really did feel quite devastated. I had all the familiar feelings of devastation...wanted to give up, wanted to just stop and take time off to pout, etc. But I woke up this morning like new. Was that because I have been re-training my thought patterns toward positivity? I don't know. But, hey...I'm going to finish this thing and see if my life is different. I hope you'll join me in the adventure. :)
RANDOM ACT OF KINDNESS