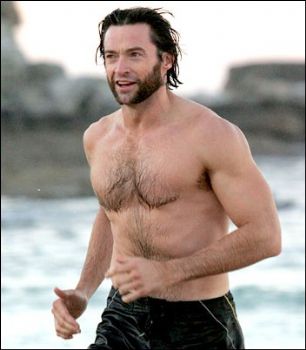 thought we all deserved a little hugh jackman eye candy.
Last night wet to see Wolverine last night, and had to go to the bathroom before, during and after

I have to say, going out to dinner is so much easier low carb then low fat. I had a lovely salad, fresh sauteed green bean, and prime rib. YUM. For my treat at the theater, I had a small diet dr pepper and didn't finish it. It seemed sooooo sweet.
I now plan my walks in the park so that I am never far from a restroom :P sheesh.
I was doing a little more research and found this john's hopkins study:
http://www.hopkinsmedicine.o
rg/news/media/releases/low
_carb_higher_fat_diets_add
_no_arterial_health_risks_
to_obese_people_seeking_to_lose_weight
it shows that lc doesn't increase arterial health risk. good to know...
The more I read about the connections and influence different food lobbies have had on medical journals, the angrier I get. HFCS, hydrogenated fats, sugar...information has been surpressed or munipulated or out right fraudulent. Not sure who I believe at this point.
I think I am late to the game on this, but I am learning to grow as much of my own as I can (which isn't much at this point lol) and trying to buy local as much as I can.