Day 1 of Phase 1 of the South Beach Diet yesterday....it was great! I was under my calories because when I stick to the plan, I'm just not hungry. Today I'm on Day 2 and was worried about being home with my husband all day and having the tendency to snack. But he had to go in to work, so I'm my own...in the evenings that's ok because I eat less. But being alone at home ALL DAY definitely worried me. But I had 2 morningstar farms breakfast sausages for breakfast and ran a few errands. Had a few slices of tri tip as a snack. I made 2 breakfast quiches without a crust and had a small piece as a snack. The quiche isn't 100% ok for phase 1 because I added regular cheese and cream, but it has zero carbs and I guess that's what really counts. I'll just have to watch my portions with all of that fat. I will say, though, this is one case where you CAN use too much cheese. It's over-the-top, unfortunately. So it's ok in small doses but it came out far too oily and cheesy. Next time I'll use half of the amount of cheese. The plan for these quiches is to have something to take in a tupperware to work and heat up as breakfast. Love it!
Yesterday my good friend texted me at 11 pm to give me a pregnancy heads-up. She knows how sensitive I am about pregnancy announcements and didn't want me to get the crushing blow on Facebook. In this case, I wasn't surprised because the particular girl made a comment a few weeks back about being hormonal, so I kind of had a feeling. What irks me about her is that we used to be good friends and it went sour so I'm particularly bitter, lol. She's just one of those people that everything comes easy to them and I was secretly hoping this would be the one thing I'd beat her at...and have a baby first. So silly, I know. In school she got a $50,000 grant in a nationwide veterinary competition. It basically required you to put together a business plan. Well. I know this girl. Her husband puts business plans together for the government as a living. I know for a FACT she got help from him and she had no problem telling everyone that she did! I wonder if the people deciding on the winner knew that. She also didn't have to pay for most of vet school because her mom, who doesn't work, basically spent every waking moment filling in scholarship applications, writing essays, submitting them, etc...I'm not saying that to be mean, she did not keep any of that a secret. I'm sure I could have won hundreds of scholarships if I had someone working on them 24/7 for me. I stopped being friends with her when she told me that she didn't believe in monogamy, her husband (boyfriend at the time) was not her type and she "had no plan of being faithful to him" and that at that point she was with him because he made a good living and she didn't want to have to go through the work of finding someone new. WHAT! I was in shock. I'm sorry, but I can't handle that kind of fakeness. I felt bad for her husband. She started telling me how she wanted a few kids out of him but would probably be on the hunt for affairs once she had her body back after having kids. Who in the heck says that??? So I guess everything is going as planned for her and baby #1 is on the way! Her husband is a super nice guy and I feel so bad for him. I just could not look her in the face anymore after that conversation. Glad I don't have to be around her anymore.
Went to the OBGYN today. Fun times. I can't wait to be going to her for OB reasons and not just GYN ones, lol. She's very excited for me that we're seeing a specialist and is also looking forward to taking over my care when I get pregnant :) She's a keeper!
Pretty lazy day, all in all. The dogs are snoozing, the cats are outside playing. I just spent about 10 minutes playing "tag" with Bruce, my deaf cat. He runs and hides and then comes out to look for me...I jump out from behind a door or corner...and he goes running back to the bedroom, lol! All the time talking up a storm. I don't know if it's because he is deaf, but he is FULL of personality and is so talkative. Boo hardly talks unless he wants to be let in. He's a cuddler. Wall-E and Shula rarely come inside and their personalities are pretty simple: Wall-E is quiet and skittish and loves being outside, never straying far from home; Shula is a B****.
Food plans for the rest of the day: probably snack on the tri tip a bit more, maybe some almonds. I'm feeling good about this go-round of SBD...I haven't been able to make it past the first day in years. If I can make it for 2 weeks, it's in the bag. I can't fully transition into the next phases because I know myself: I need to remain low carb/high protein and I need to figure out how to allow myself the occasional small serving of a carb. When I've been thin and kept it off, I was 95% carb free and I stayed active - I didn't work my butt off at a gym 7 days a week. I just walked a lot, went hiking, swimming, etc. I know I can do this, and I have to. I am feeling really good about the future!
Here are my kiddos:
Wall-E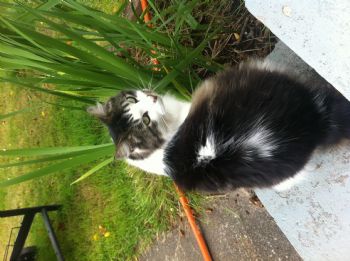 Shula (tuxedo) and Boo (Siamese X)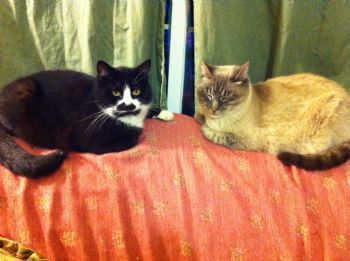 Shandi (boxer) and Blue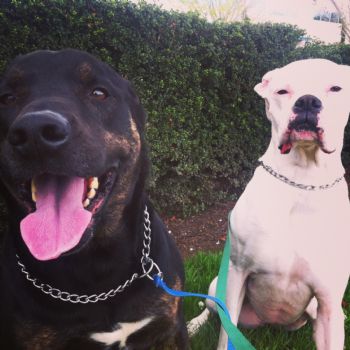 Bruce