Tuesday, July 30, 2013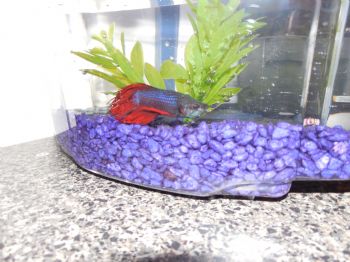 My youngest has wanted a pet for a long time. My husband is not a fan of animals, but when my middle son was young, agreed to fish. Since the peanut challenge last year was a challenge in every sense of the word - we've been warning the kid to stay away from peanut products and if someone doesn't know if it is safe, then it isn't since he was a toddler. We trained him so well, he was hysterical at the test last year. He was also dealing with so many seasonal allergies (can't have antihistamines for 3 days prior to the test), the test got called off. We wouldn't have been able to tell if he was reacting or not. This year, we said if he acted appropriately, we would let him get a fish. He failed the test, but did as he was supposed to. Yesterday we got the tank and the water conditioner and today (after roughly 24 hours of the water being in the tank), we picked up Freddie.
I still think his name should be Peanut.