I imagine waiting to be the toughest thing God ever calls me to do. Wait. Ugh. I must admit, I'm not that great of a "waiter". I like to be out of my seatbelt, pressing against the backset of the driver, shaking the yeno what out of it, CONSTANTLY asking the Lord, "Are we there yet?" Over and over and over, I ask, and time and time again the Lord responds, rest. I try so hard. I bite my lip, get back up in my seat, put my seatbelt back on, enjoy the scenery, then what feels like five minutes go by, and I'm sleeking out of it, approaching Him again, "Are you SURE we're not there yet?" and the process starts all over again, lol. Yeno, the Israelites knew something of this process. What was to be an eleven day journey became a forty year deal, and only two men made it in to the promised land out of a million plus. Those are terrible odds, and I'll be honest, looking at them I think how in the world am I going to make it out of this wilderness and into my own personal promised land?
I thought like that for a long time, but recently the Lord has been showing me something different. He keeps saying, dear child, "I" am your promised land, your inheritance is here already, rest, little one, enjoy! Ugh, I'll say again ((just being honest)), but I do realize something very important. Jesus is indeed our portion, he is quite enough, but our "mentality" can be very much stuck in the desert. I struggle with this quite a bit. The war wages within me. I mean after all, it's pretty clear all through the Word that we will struggle against our flesh right? So how in the world do you kill that thing once and for all?! Good question. I know it in theory, oh Lord Jesus, you alone know how very much I do, but practicing it, huh, that's a good one.
Practicing it looks like me staying in my seat, not unfastening my seatbelt, waiting for Daddy to stop to go potty, get a drink, something to eat, at an amusement park, pass one up, buy a new car, pass one up, buy a new home, pass one up…you get the idea. I wait like a weaned child perfectly content knowing that the Lord will take care of every.single.need that presents itself. Knowing that if he decides to stop for ice cream and pass me one while I sit quietly, then that is great, but if he doesn't, that is great too. Folks, I'm not there, lol, oh, God I want to be, and I can feel the stretching, the growth going on in me in leaps and bounds, but I know my personality, God knows my personality, my personal experience has been the complete opposite of this all my life, so this particular area is taking time. But hey, what else do I have to do, what else do you have to do? We might as well just get comfortable being uncomfortable at least we are IN the car, the care of our Daddy! We might as well let these trials develop us and let patience have her way so we will be mature and complete in all things, and honestly, at this point in the game, I don't see much of an option.
I used to be quite the gambler, the rebel and such, now I am Rachel, quite the calculated risk taker, but the old me, oh how she wanted to shove the Lord out of the car sometimes with a beat it old man, I've got places to go (the teenager in me still rears her ugly head from time to time), but truthfully as much as I may imagine that (which isn't nearly as much as I used to, thank you Jesus for showing me who you really are!) I don't really want that, so I wait. I don't always wait nice, and you won't either, not if you're honest or alive, but if you want God's very, very best, you will wait, dear hearts. And I will be honest with you, the nicer the thing you are waiting for, the more important the thing you are waiting for, the wider the influence in your sphere, the greater the blessing financially, or otherwise, the more work God will be doing in you, you will go on a trip with Jesus. Trust me, if you are holding out for his VERY best, not days, dear friends, will go by, often times years and years ((I'll stop there, I'm trying to encourage you!)) will go by, lol.
God who did not hold back his very son, but gave him up for us all, will he not then give us all things? The answer to that question is yes, BUT oh, lol, there is a price tag attached. It will cost you something. No worries, I'll tell you what it is. It will cost you your pride, your fears, your hatred, your deep, ugly sins that you don't think God knows about, but he does, it will cost you anything that you exalt above Jesus Christ. You get that junk out of the way, you will have a highway to his blessings, a clear and level path. If not, buckle up, it may be a long ride, but be encouraged Fam, the end result is still the same, and the driver can be trusted! I love you guys!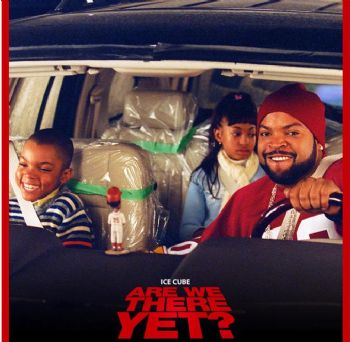 Pic Ref: http://themilwaukeedrum.com/20
11/01/05/are-we-there-yet/