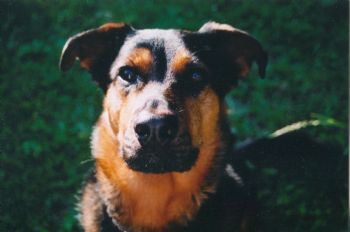 Dmitri
1999 (or thereabouts)-2013
I made the difficult choice to euthanize my dog Dmitri today. He was about 14 years old and I adopted him from the Humane Society 12 years ago, in July of 2001. He was a total impulse buy. I was a die-hard cat person. I NEVER thought that I would have a dog. I went to the Humane Society that day to help a friend pick out a reptile. While she was looking, I went into the large dog kennels. At the end of one of the rows, I made eye contact with a young German Shepherd mix named "Toby". The dog had been picked up as a stray. He jumped up and down with excitement. He had a note on his kennel from a volunteer that said that although he seemed excited, he was a very sweet dog. Another volunteer came through and saw me looking at the dog. She tearfully told me that the dog had been there about six months and that volunteers had several times successfully begged for the dog's life, but that his time was coming to an end. I didn't even need to spend time with the dog; I knew he was meant to be with me.
My friend saw me filling out paperwork and asked what I was doing. I told her I was adopting a dog. Her eyes widened. "You. You...are getting...a dog?" Hell had frozen over. My friend stared at the dog's grinning face the entire way home. I called friends and family to tell them about my new addition; a few thought I was joking. But they met the dog, renamed "Dmitri" (no real reason for that name; I just liked it and it suited him), and could see why I couldn't resist adopting him.
I so fell in love with Dmitri that I decided to explore veterinary medicine. I was in a fairly aimless place in my life when I adopted Dmitri and struggled with depression. I couldn't make a concrete choice for a career and had little confidence that I would be successful at anything. I enrolled in school to become a veterinary technician in 2002 and embarked on a life-changing journey. I have saved thousands of animals over the past 10 years thanks to Dmitri's inspiration. Although I got burnt out in veterinary medicine, I still learned a lot and was able to make a very good living. I had many once-in-a-lifetime experiences such as being chased by a swan, releasing bats, drawing blood on a dolphin, getting spat at in the face by an unhappy camel, anesthetizing a tiger, delivering puppies, seeing interesting medical cases, and hearing countless crazy stories in poison control. I am not sure what I would have done with the past decade had I not become a veterinary technician. I thank him for that; being a veterinary technician has taught me how to be a good pet owner.
Dmitri was a blood donor at the University of Minnesota Veterinary Medical Center for several years. He saved countless dogs during that time. He was very cooperative during the donations and was content to give his blood since there seemed to be a lot of treats and hugs involved. Nothing made me more proud than when I was working with a dog in the hospital, watching them receiving Dmitri's blood, and see them get to walk out of the hospital with a wagging tail and an ecstatic owner on the other end of the leash. He was retired from being a blood donor when he became a senior.
Dmitri greatly changed the direction of my life and helped me become a better person. But the impact he had on my mother was perhaps even greater. She grew to love Dmitri a lot and would sometimes keep him for visits for a few days at a time. She took him one weekend, and well, that weekend turned into 6 years. When I saw how much Dmitri meant to her I didn't have the heart to take him back, so he has lived with my mother for the past 6 years. She adored Dmitri and they took care of each other. The loss for her is perhaps even greater than it is for me.
I was concerned that we would not see eye-to-eye when it came down to an end-of-life decision. Dmitri has been showing signs of increasing pain over the past year, suspected to be arthritis in the hips and back. It was only over the past week that he declined drastically, seemed very painful, and was reluctant to eat. An increase in his pain medications helped somewhat, but yesterday he became completely paralyzed in the hind end. He was distressed from being painful and confused as to why he could not move. I explained the prognosis of dogs in his condition (likely something in the spine such as a tumor) and that they were usually difficult to treat, if it was possible to do so, and recovery could be treacherous in such a geriatric dog. For once, she trusted my opinion and agreed that euthanasia was the best option for him.
His veterinarian was able to come early today to euthanize him. He agreed that Dmitri likely had a tumor somewhere along the spine (probably in the spot that my dog Dugan kept sniffing as he was saying good-bye to him yesterday). I was grateful to have had the time to say good-bye to him, and that I could hold him and tell him into his ear how much I loved him as he passed away. One's death is as major an event as their birth, and I was honored to be there with the dog who gave me so much. I think he was happy to have been surrounded by everyone he loved.
The quietest soul can touch so many other lives. Thank you, Dmitri, for saving and changing my life, and of so many others.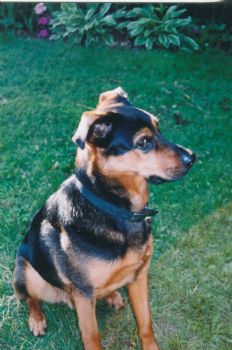 Not sure what this goofy face is about.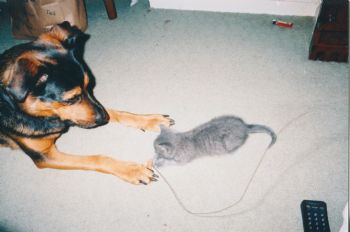 Dmitri loved his kitties.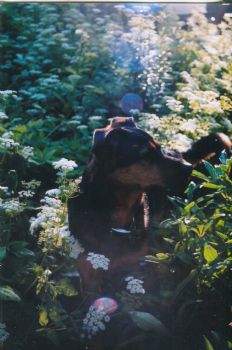 In my mom's garden.
"Dogs have a way of finding the people who need them, and filling an emptiness we don't even know we had."
-Thorn Jones