Monday, July 29, 2013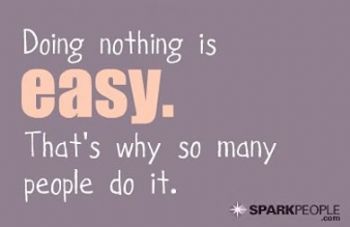 That quote is so true!
I know I often take the easy way out. Comfort is my middle name. I avoid pushing myself to my limits because it usually means that it feels (at least at that moment) uncomfortable. Let's take running, for example. I love it and I hate it. I love it because of the way it makes me feel when I'm done, and I hate it because it's so uncomfortable sometimes. The first mile or so is easy, and then it hits. I get tired, my legs feel heavy, I'm breathing harder... I know that it's mostly mental, and I just need to learn to be okay with being a little uncomfortable at times! Because I KNOW FOR A FACT that if I just keep on going and finish, I'll feel AMAZING and so much stronger than when I started. That is, of course, not to say I need to push through pain or something like that! Of course not. But a little discomfort is just a sign that you're challenging yourself and reaching new milestones.
I know I for one don't want to waste my life doing nothing just because it's so easy. I want to push myself and force myself outside of my comfort zone from time to time. That's the only way to grow!
Have a great week everyone!