I Love my Spark Page, esp the "Friend Feed"
Sunday, July 28, 2013
I have not had much computer time lately, but treasure my intro time each day while I am "spinning to sign in" I glance down the "Friend feed" part of that page and just saw the names of two that have been missing a bit lately too due to computer and health issues - it made me smile just as much as checking in on emails and seeing names of dear friends/relatives or going to the real mail box and getting a note from a real person, not just the bills!
All this to say, I really appreciate SPARK People! and the dear friends I have made here are an important part of my life, my encouragers and the uplifters of my heart and spirits so many days. Then there is the goodie part of my spark page ...oh what treasures, I read the notes over and over and am again encouraged. Then there is the ticker line showing my very slow but steady weight loss. And finally the notes and comments ...I am blessed to be part of Spark People and pray that I am an encouragement to others too.
Latest artist finds: From my series of "a child prays"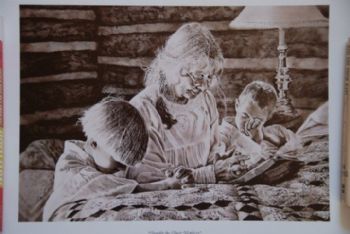 A mother teaching her children to pray by Steve Johnson
And from my series about "Reading"
by Tom Sierak.