A little background... I have had no real formal swim training. Last year, I started learning how to swim from watching a DVD so I could prepare for my first sprint distance triathlon. When I first started, doing a lap or two was probably painful to watch and resulted in having to hang on the side of the pool to get my heart rate down and breathing under control. During this time, that was my focus. I was really afraid of the swim portion of my first tri (swim leg was .3 miles). We are often afraid of what we are not strong in. End of story, I did very well in the swim leg of my tri, I came out somewhere in the middle of the age groupers. Not bad.. i actually enjoyed it and thought "that's it???" when I got out of the water.
That was July 1st, 2012, UP Northwoods triathlon in Iron Mountain Michigan.
Fast forward to yesterday, July 27th, 2013. Teal Lake Swim, 2.25 miles... that's a LONG way from 3/10th's of a mile last year.
As many of you already know, I am prepping for a 70.3 mile triathlon with aspirations of one day finishing a 140.6. The swim leg of the Ironman is 2.4 miles... this event was a little over 1/10th of a mile shorter. The time cut off for the Ironman swim is 2hrs 20 minutes...
I finished the swim distance in 1 hour 42 minutes (chip times havent been posted yet but i saw the clock when I got out).
The significance of this event to me is huge. It is a landmark point in my quest for a full Ironman. I went from just paddling a few laps last year to this with little formal training and swimming is so un-natural for us since we do everything on land.
I am stopping now just to savor the moment. This is progress. Real, measurable, quantifiable, never to be taken away. Once you do it, it's yours forever.
6 years ago... the only time I ever moved fast was when they put out fresh crab legs on the buffet... now... I am constantly striving to go further, faster, better.
At 385 pounds, your goals are pretty small when it comes to any sort of fitness. One of my primary goals was to not sweat and have to hold my breath while tying my shoes. Another was to someday be able to get my pants from Walmart and not a specialty store.
Now, I am going to be swimming 1.2 miles, biking 56 miles, running 13.1 miles in a tri just 2 weeks from now.
Today.. I feel EPIC.

Now for the race report....
Me just before the race...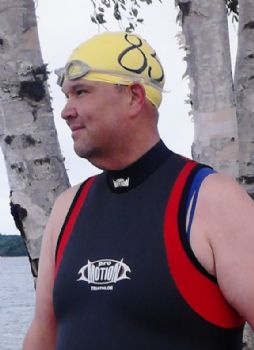 Race website...
www.teallakeswim.com/Inf
ormation
This is the route... it was the length of Teal Lake... all deep water.. 30-40ft average.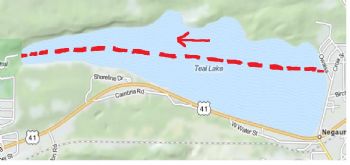 There were almost 200 swimmers there and LOTS of safety kayakers to provide escort.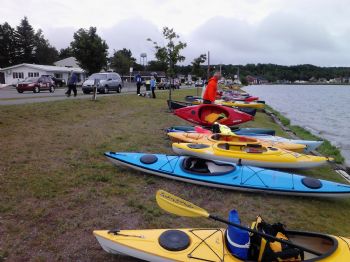 I also got to meet Peter Vanderkaay, Olympic swimmer and 2 time Gold Medalist. He even signed my race shirt :)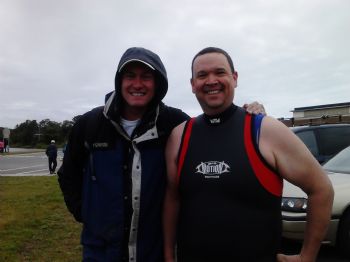 Race Check in..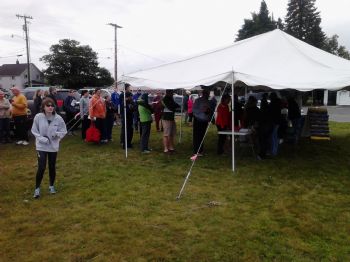 Getting ready...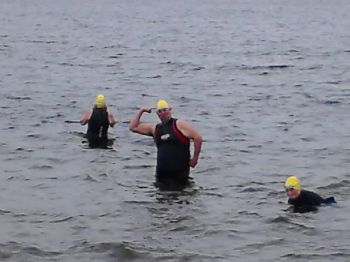 Finish Line area....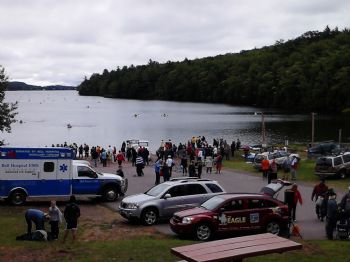 Me exiting water and about to cross the timing mat...
Post race yummies... pizza never tasted so good... CARBS! ;-)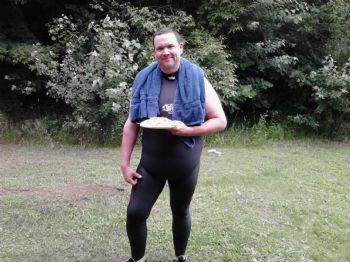 The event was very well run and I will do it again next year.. it makes a very good event to measure my swim readiness for triathlon.
Highlights:
-For late July, it was COLD! we had some storm fronts move through and it was 46 degrees race morning. The water was significantly warmer and it felt REALLY good to get in. Fortunately the wind was fairly calm to no bad chop... a real bonus.
-It took about a 1/4 miles to just get warmed up and to settle into a groove. There was a certain amount of frantic thrashing around and stiffness. It also didnt help that I worked afternoon shift and go to sleep after midnight. No worries ;-).
-Sighting was sometimes difficult since there was a slight chop and the only way I could overcome that was to switch up to a side stroke. Also, switching up strokes is much like a run/walk for running. By switching things up, you give your muscles a chance to recover and get your breathing back in line.
- Didn't see a single fish :-( lol....
- Being in deep water is pretty much a mental game... after 15 feet it really doesn't matter anymore. You can't see bottom, it's pretty much a void. That's where the wetsuit REALLY matters. The support and level of buoyancy it provides is a real confidence enhancer. If I needed to stop swimming, I would just float, no effort needed if there was a problem. I did catch a couple waves in the kisser and coughed up a little. Sometimes you can't help that and you have to be prepared to deal with it. For me, switching up to a side stroke to keep my head above water was the magic bullet to recover from the inevitable fatigue, water up nose, water splash in the face when taking a breath during the crawl. You adapt and keep moving.
- I did really well and kept up with the lead age groupers for probably the first 3/4 mile to mile then started to lag a little.
- One thing that is really necessary in any event is to "find your Zen" When you are out there, you can't allow yourself to stress. Be in the moment and find pleasure in what you are doing. As soon as I was thinking about how much I loved being out there, the battle was won. All I could think about was how much I loved living the dream, I mentally put myself in the middle of the Ironman swim and lived it. This is what it would be like swimming with the very best elite triathletes... and you're one of them!!! woo hoo!!!.
-The big secret to endurance swimming is to become one with the water, flow with it. Don't fight against it. You are its master, not at its mercy.
- I wasn't even thinking about time until I got close to a kayaker. I could see the finish line and was fairly certain I wasn't in the water that long... seemed odd. The race started at 830am and it was now 930. I couldn't believe it... You gotta be kidding me! I ws expecting a 2hr+ finish time. At that point the competitive part kicked in and I really laid on the juice. I was going to have a sub 2hr finish like a real athlete. Just seeing the beach and the cones that marked the exit had a huge effect on me. I was no longer just mentally filling in the gaps as I stroked along, I was pushing... I was actually also thinking food...food...food....food.... I knew they had something there for us and I wanted some :)
- I was really happy to see weeds... I was getting close now.
- Exit was less than graceful. After being in the water that long, it takes a minute to get adjusted to land again. I felt like jello but at least I didn't fall over and jogged to the timing mat.
Results not posted yet but I saw the clock... I exited the water at 10:12.. unofficial time was 1hr 42 minutes for 2.25 miles... VERY respectable... pretty happy about it all.
****Official Chip Times Were Finally Posted.. 01:41:24.1 is my official time. ****
Event In The Local News
www.uppermichiganssource
.com/news/story.aspx?id=92
6887