SALSA FIESTA GRILL--FT. LAUDERDALE--RESTAURA
NT REVIEW
Saturday, July 27, 2013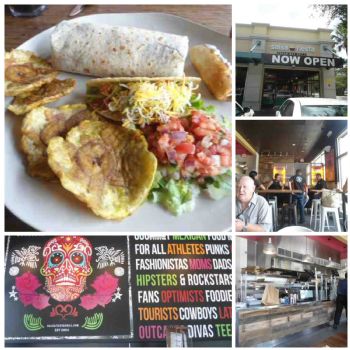 Lime Fresh, Taco Bell, Chipolti, Pollo Tropical, Fresca Zona, Tijuana Flats, Moes, etc. Does Fort Lauderdale need another Mexican restaurant? How many advertise "Fresh natural"? Then we have Carlos & Pepe's, La Bamba 1 & 2, Jalesco's, to name a few independent Mexican restaurants. Do we really need another one? Didn't Baja Fresh on the other side of Federal just close? Do we need as many Mexican restaurants as the city has Italian restaurants? And in the Latin explosion we have Spanish, Cuban among other countries cooking their home style dishes.
The only reason we went to Salsa Fiesta was that I had received a 25% coupon in the mail and after the movie we wanted something light for a late lunch--that was a mistake! We both ordered the house combo consisting of a Burrito with chicken, an original taco with carnitas and served pico de gallo, a beef taquito and a few mashed big plantains--no way would that be considered light! We did want caffeine free Pepsi but they only had diet--I know, I know, with that plate what good would a diet soda do. The food was good and it helped that we were served. Also with it being slow when we were finished they clean the dirty plates off.
It all tasted good, no complaints about the employees and I believe the boss was the cashier (that makes sense!)
The check before the 25% discount was $28.17 which is a little high without full service. Also the place itself, though while clean, was not distinctive from the competition as far as ambiance or uniforms.
Salsa Fiesta is okay but without a coupon I probably won't go back if then.
(And I didn't see a TV--hurray!)