Reflection Perception
Saturday, July 27, 2013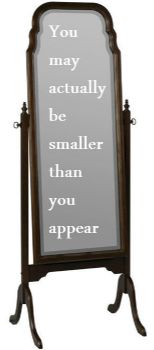 In my mind's eye what I "see" as myself in my head does not match what is reflected back in the mirror. That is, my body image perception has some catching up to do.
It does feel like my mind is playing tricks on me - I don't "know" that body's reflection in the mirror.
Just now, I was folding my mom's laundry and for a lark decided to see if her pajama top would fit. I slid my tee off, and pulled on her pajama top and it fit. I came out of the laundry and asked my husband, "Am I really fitting into this?" He nodded his head. "Yes, you really are."
Her clothes fit me (I've tried on other garments). Heck, even my husband's clothes fit ... but how can that be? I don't "think" of myself as being that size.
I know that eventually my brain will catch up and I will see my "real" self reflected. I know I will get used to seeing "that" person in the mirror and it will not be like I am looking at someone else.
I just would like it to hurry up already!