Saturday, July 27, 2013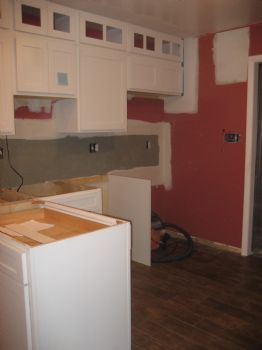 The cabinets to the right and left of where the sink will be are the wrong cabinets, they are supposed to be glass fronted. ARRRGGHH! I noticed the error after they were up. It will be another 3-4 weeks to get the correct cabinets, and they can swap them out easily, or so they say. It's starting to look like a kitchen.
I have often said that one of the most important things I learned while losing weight was patience, and that patience is being tested. I weigh exactly the same this morning as I did the day it all got underway 3 weeks ago, so even though one thing isn't going exactly as planned, my food plan is right on track. Three weeks in and we have not eaten out or gotten carry out even once. I wish the contractor were as organized as I am. He sees the job as subcontractor by subcontractor. I see it meal by meal.