For those of you wondering what my Insanity experience has been like, it has been kind of like this: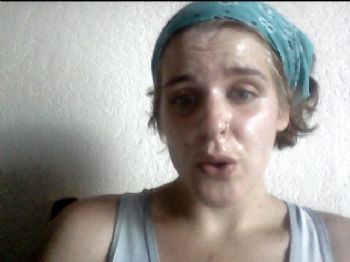 Lol! Sweaty! That's how it's been! Granted, I do live in the desert where it's 90 degrees out, and I am one of those slightly embarrassed people who sweat a lot in my workouts (thanks for THOSE genes, Mom), but it really has been intense!
The videos usually consist of a warm up done three times at faster speeds, a stretch break, a cardio set done three times at faster speeds, then a cool down and stretch. Some of the activities are HARD, like doing high knees as fast as possible. I can barely get my knees above my waist like that for that long!!
I do have to modify some of the workouts (Level 2 Drills, high knees, etc.) but I can mostly complete all the workouts. Most of the time I just take a quick breather and get back in to it, but thankfully some of the people in the video take breaks too. That is a relief, because I sometimes wonder how the heck these people are doing this workout at that intensity! My roommate was watching the video and he was laughing because the instructor takes breaks and gets tired too...
So there.
I also enjoy that the workout schedule switches around the videos, so you have a couple different workouts, but if you don't look at your calendar a lot, the next day's workout is kind of a surprise, haha.
The best part about working out just about every day is that it has been helping me stay within my calorie range, which has been my biggest problem lately.
Anyway, my opinion of the workout videos is that most people could do them (especially if they've been working out already), but they take a lot of dedication to do them every day. Some of the workouts need to be modified for me, but as we all know that can happen in any workout video or class.
All in all, I am enjoying them. They are making me want to be more active too, so it's time to walk to the grocery store!
Here's a more accurate picture of me after Insanity...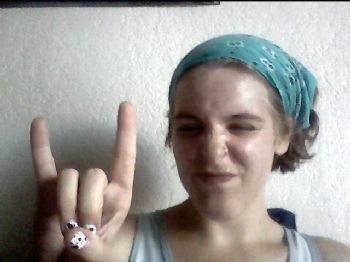 Haha! Yeah!