Thursday, July 25, 2013
I've been really MIA this summer on here. Sorry guys! We have had a jam-packed schedule of activities. And I've also been really on and off with following my exercise plan and healthy eating. Same old, same old, so I haven't really felt up to blogging lately. Anywho…
I'm pretty sure I had the best weekend of my life this past weekend. We went to a music festival in Ohio with 7 of us total from VA and met up with some friends of ours in Ohio. When we arrived, I seriously thought we might all melt into the grass is was so freaking hot and humid. Thankfully, we didn't and went to watch music that night.
We ended up making friend with our camp neighbors. Honestly, I've never clicked with a group of people like this before. We had such a great time together, it was like we'd always been friends. (2 of our new friends in the picture below)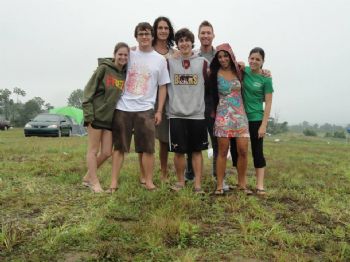 My sister, Jimi, new friend, my sister's bf, Jimi's friend from elementary school, new friend, me
We've already made plans to hang out with our new friends again for a whitewater rafting trip in West Virginia in September.
Healthy-wise, I did okay. I did a fair amount of yoga, lots of walking to and from the concert area and a ton of dancing. Food-wise, I didn't do so well. It was really hot during the day, and it was hard for me to want to eat. I ordinarily have a massive appetite, so it was really strange. I ate a few grilled cheese sandwiches, some fruit and some granola bars. I was really low on nutrients all weekend. I didn't drink all that much alcohol either because of the heat. I think the only positive on this is that I came home with a renewed focus on my exercise plan. I actually weigh 1 pound less than I was before we left (!!).