Hi everyone!
The heat is all draining to me. I have multiple sclerosis and this weather has been hard since I take buses everywhere and walk. Yesterday the heat index in SE Florida was 102 degrees. Yuk! I felt drained yesterday and today but I promised myself that I would do my very best with this new weight training goal and to continue the cardio I have been doing so....
I went to VIDEOS in the Fitness area here in SP and did the following:
Video: 12-Minute Low Impact Cardio Workout from Andrea Metcalf's "Keeping Fit: Cardio" DVD.
I figured "how hard can that be?" Well, after I had been doing some exercises already, out of breath, she says, "Now that we are done with the warm-up..." WHAT!

But I kept going and here comes Baby, my male cat who wanted to wrap his body around my legs while I am jumping around! So I start laughing and he bites me!


But I finished and it was harder than when I walk 20 minutes. (I wonder why.....Um....)
Another reason why I didn't want to exercise today is because I have several of my SP friends either hurt or sick and I feel very sad for them plus some really want to continue their exercises but need to adapt them until they feel better, and I was feeling guilty that I could. I felt like I was cheating them if I continued to do mine.
We affect each other here more than we realize sometimes, for good and not. I am happy to be here because alone, I can't do it. It is too hard for me with asthma, MS and bad knees to motivate myself alone. So....

YOU ARE

Now, Beni, you shared this with me once and I am going to share it here with others: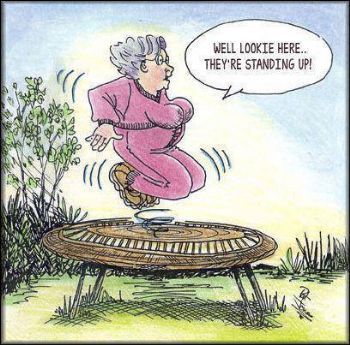 So there are other benefits for some of us ladies.

Have a wonderful evening and KEEP ON TRUCKIN'!!!

(1970s saying)
Love, Chelsea