Thursday, July 25, 2013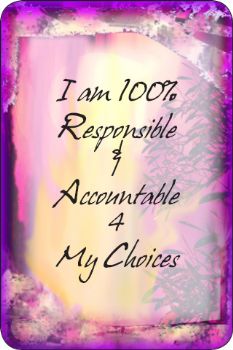 Joining in Challenges and blogging helps me stay accountable for what I do.
It is easy to say I will do this or that but things get in the way and they don't get done. So by blogging about it I am more likely to do it.
I have never been competitive but being part of a team I want to do my best so they do well so whether I am a Fabulous Feisty Fox a Starfish or a Believer I do my best for myself and the Team.
As I am also on other forums who have threads for weight loss I decided to make a blog so I can share what I do with others. It also means that I have it out there in cyber space for all to see, that way I have it in writing what I am doing and if I get any followers I will feel more like keeping to things.
I know that sounds daft as I should be able to do it without this but I have tried so many times and not reached my goal I am doing all I can to keep myself accountable.
Accountability is taking responsibility for your decisions. Itís putting into place a plan of action that will keep you on track to reach your goals. It will help you through the difficult times.
Having a friend or a group of friends who want to see you succeed will help you stay accountable. Being publicly accountable means you add updates of how you are doing to blogs or here on SP and other people who are also striving for a similar thing can support you and you in turn support them.
So my new blog will be doing just that keeping me accountable.
I called it Fat or Fit as I am fat and want to be fit. I have found that by writing about what I want to do I have reinforced my motivation.
fat-or-fit.blogspot.co.u
k/
I get a huge amount of support here and would not be as far along as I am without it. I am hoping my Fat or Fit blog will help others who are not here at Sparkpeople and maybe they will find their way here as well as I have added a link to Sparkpeople.