Monday
Wednesday, July 24, 2013
Today I am excited to start the Daniel Fast for the 2nd time. I started about this time last year I did not last the whole 40 days but I did about 2 weeks very well. That is when I pretty much gave up chicken I have only had it a few times since my last fast, I never ate much red meat or turkey. Very rarely any pork. I have lessened my fish consumption as well. I do eat eggs though. I gave up milk for the most park after my last Fast. I like almond and rice milk I have even tried sunflower milk. I have PCOS I would go for months sometimes 5 or 6 months between TOM I have found since I have up a lot of the foods that I am having it much more regularly now almost every month. Does that have anything to do with the meat and milk I Have mostly given up. I am not sure but ... I also noticed that my IBS did not flare up while I was on my last Daniel Fast. I have had quite a few flare ups lately.
Breakfast is the hardest for me since I eat out for breakfast a lot and have eggs and toast. Both No No s on the Fast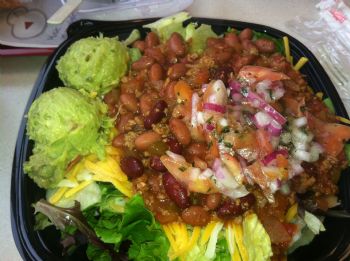 I fasted for breakfast then for lunch I had
Dinner was at Wendy"s I had the Baja salad It has no meat so I thought. I always get the chili on the side Lady behind counter thought she was helping put the chili right on my salad. 1 st yuck I give my chili away to my hubby or daughter. The chili has hamburger in it but really there was nothing to do I tried to get as much meat off but..
It rained today but I had to shop with my daughter I am glad she only needed a few things She leaves at 6 am tomorrow morning with her college group for a college trip to Indianopolis Indiana.
Got everything done and going to try to get all the girls to bed early tonight so we cab get up by 5 am