Tuesday, July 23, 2013
HALF WAY THERE!!!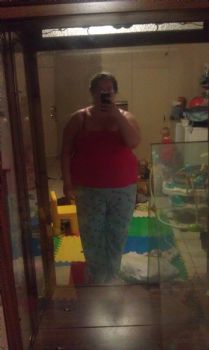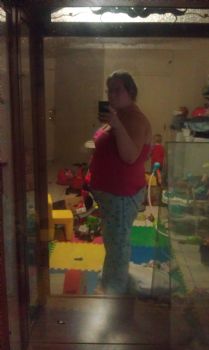 Mixed jammies night!! LOL
I need to finish laundry LOL
As expected...Mom didn't show up. Also the girl that was going to take me shopping to pick out Natasha's gift didn't show either. My sister still showed up though (not a celebratory thing - we "pretend" to get along for Mom's sake to keep her blood pressure down).
She spent the whole time complaining about my brother and how he raises his child and how she hates how he criticizes her parenting LOL. Oh how hypocritical, but not surprising. I tried not to laugh my face off after she'd go out for a smoke (she's almost 7 months pregnant and still smoking heavily and is having lots of issues with her pregnancy) and then start up again about how my brother needs to be a better parent. In all honesty, all 3 of us need to work on being better parents. I wouldn't join in on her bash fest and I think it irritated her. I just can't sit there and talk about things my brother does when there's a million things I could be doing better myself. I just told her that different parenting styles focus on different things and consider them more important than what some other parents do - like why my house is always "a work in progress" but it's not a dump (well most days LOL).
Natasha was fussy all day but had a big nap after supper and I managed to give the twins their hair cuts finally!! Followed by their bath =] I did one at a time just to be sure that I could finish. Natasha doesn't like to wait!! Unfortunately she woke up just as I was getting ready to have a shower so I'm still covered in the twins hair LOL.
Here she is with a cute sweater that was picked up at the farmer's maret by a family member...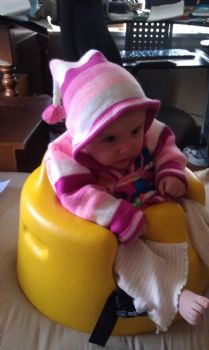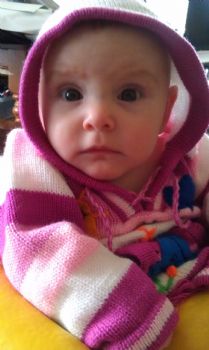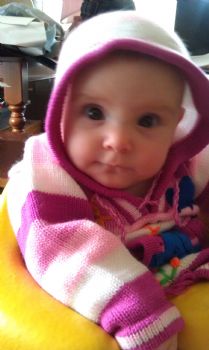 Here's the new hair do's...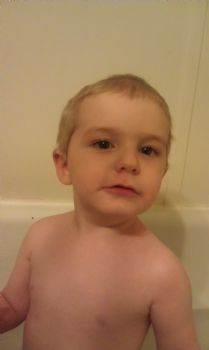 Liam in the tub right after his hair cut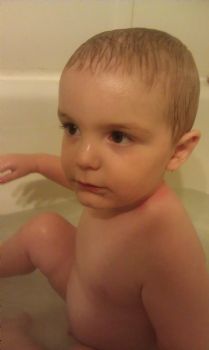 Zander in the tub after his hair cut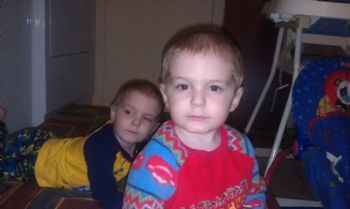 Both laying down watching their movie before bedtime.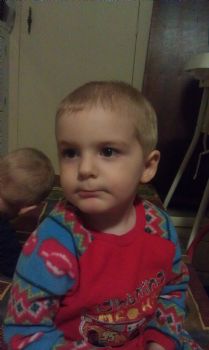 Good night Liam!!
Good night Zander!!
Good night everyone!!