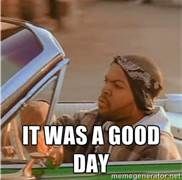 Nothing in particular happened today, I'm just feeling good.
Last night I got the routine for my Intro to Pole class, so I'll start practicing that and finishing up my certification. I'm SO excited!!! I'll be the first impression of pole fitness that people will have, and that makes me really happy to share with them.
Today I want to give you all a "day in the life" of someone who has this Whole30 stuff pretty much down pat. I'm on the downslope, I'm in the groove. Let's take a look at what it's really like.
I woke up a little late, around 5:15. In the past, I would've put my coffee in a to-go cup and maybe grabbed a clif bar for breakfast. But no.. in Whole30 I cook 3 meals a day. Every. Single. Day. Luckily I had ingredients ready to go. I fried up some bacon, then with the bacon and its grease still in the skillet, I added about 3.5 cups of cooked spaghetti squash (leftovers from last night). I whisked 5 eggs, poured them on top, let it bubble and set then stuck it under the broiler while I fed the dogs. Yes, I made a frittata. I split that sucker right down the middle, hot sauce on mine, black pepper on bf's, and we sat down and had a cup of coffee together. I was late to work, but priorities people.
MACRO COUNT FOR BREAKFAST (according to Spark, I didn't measure):
Cals 488, Carbs 16, Fat 35, Protein 28
Got to work and whizzed right into a project that was due in a matter of hours. I finished my division's report waaay before the assistant for the other division finished his. He was dragging through the morning.. eyes red, perma-frown, yawned a lot. Not me.. I was good to go. Tuesdays are Boot Camp days in the early afternoon, so we plan ahead and eat an early lunch. I had some leftovers from the weekend. I had some DELICIOUS braised cabbage by Nom Nom Paleo. I don't even like cabbage! It was slow-cooked in melted ghee. Then I had an entire chicken breast quarter, skin on. MmmMMmm.
MACRO COUNT FOR LUNCH
Cals 396, Carb 17, Fat 29, Protein 22
Couple hours late I went to Boot Camp and had an incredible workout. Notice by this point of the day I've had 33 of the 287 grams of carbs that Spark recommends a person of my activity level consume. I wasn't lacking energy, and I eat like this EVERY day. Also, note that that I've already had 64 of the 77 grams (upper limit) of fat. And guess what.. I'm not fat nor am I getting any closer to being fat.
Today is National Hot Dog Day!!!! Weeee!! So to celebrate, we're having grilled Applegate hot dogs. My hypothetical dinner will probably be 3 hot dogs, an entire tomato, 2 cups of spinach, 3 tbsp ranch mayo, and grilled bell peppers.
MACRO COUNTS FOR DINNER (hypothetical)
Cals 602; Carb 11; Fat 49; Protein 28
Yep, I'm eating almost 49 grams of fat in one sitting. And that's OKAY!
I'll probably have some watermelon for dessert, because it's orange and it's yummy!
End of the day I'll have eaten:
Cals 1535; Carbs 55; Fat 113; Protein 78
I could probably eat another hot dog!
My cholesterol is in the 700s. But who cares about that? Eating animal cholesterol does not make your liver produce more cholesterol!
Basically, I just wanted to point out that:
a) I eat a LOT of veggies
b) I eat a LOT of fat!
c) I don't workout a crazy amount of time to "burn off" what I eat
d) lowering carbs by avoiding grains does NOT lower my energy levels
e) I won't track my food again. It's not necessary. I'll just eat what my body tells me to :)