Monday, July 22, 2013
Watching my mother eat beets when I was a kid made me quiver. She would eat pickled beets as if they tasted good. I had read here on Spark and on heard on Dr. Oz beets were good for you. I recently read this:
voices.yahoo.com/15-heal
th-benefits-beets-fight-ca
ncer-more-805501.html?cat=51
Out I went to buy some beets to force feed myself some healthy lifestyle. This morning I decided to "man up" and give the beets a try. I was thinking " Really?" "Are you really going to eat these just because they are good for you?" It really felt desperate. So I found Chef Megan's recipe for pickled beets and I will be making those later. I figured it would be safe because any time she has introduced me to a kitchen kitchen adventure it has gone so well.
I started off my morning with a detoxing blueberry beet smoothie. It was so good, I want another. I was surprised beets actually taste good.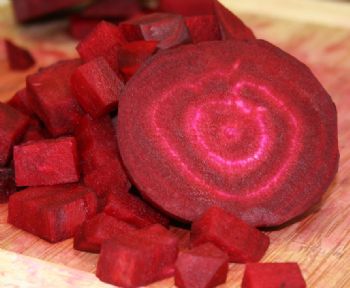 Next up will be a beet avocado smoothie. I won't be skipping beets in my diet at all in the future. What is your favorite beet recipe?