On the 55+ Females Team we have been asked to do a Guided Meditation to meet the your future self. Blog your guided meditation and after you do it, blog what happened. Have fun with it and let your mind take off.
I love to meditate and guide meditations are my favourite. They are easy to do and very relaxing.
This is what I do:
I make sure it is peaceful and quite so the TV is off and the phone is silenced. I sit and relax my whole body take a few deep breaths and imagine a warm day with the sun shinning through the trees. I am in a woodland, a warm breeze rustles through the leaves of the trees and birds are singing as I walk down the path.
I notice the flowers that are growing and their heady scent and bright colours greet me. I stop to smell a rose that is growing wild and touch the soft petals, further on I see Foxgloves and recall they are the flower of the Fey. A butterfly flits past and I smile as many a fairy has been mistaken for a butterfly.
As I walk on I hear the ripple of a stream and walk towards the sound, there is a rustic seat under a tree and I sit down. I close my eyes and drink in the peace and quite, I hear someone walking down the path. I open my eyes and see a familiar figure walking towards me. She is slim and looks so happy as she gets closer I realise it is me. She sits down next to me and smiles. We talk and she tells me what I need to do to look like the new me.
As I come back to the real world I can recall everything and feel full of motivation and energy.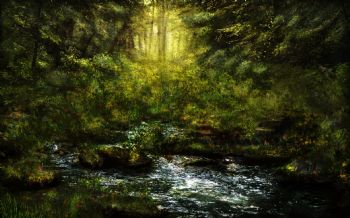 So I went to my favourite place and met the future me.
I found that although things happen that would normally make me turn to comfort eating I resist the temptation and find new ways to cope. One way is to keep busy and I write a journal about my family history for my son.
I stick to the Juice diet and eat more of a vegetarian diet in general, I learn to say No when offered foods I don't really want. Tracking my meals and planning them helps with the weight loss.
Getting up early to exercise is part of the daily routine and even when I want to lay in I realise being consistent is important and get up.
When weight gain happens around Holidays like Christmas it is straight back to juicing and tracking again. Sparkpeople is still part of my life as I maintain my weight and I still join in Challenges.
Meditation is a way of getting in touch with your inner self. You already know the answers but meditation allows you to focus on things.
www.chopra.com/our-servi
ces/meditation
I like the 21 day free meditations with the Chopra Centre.
So I know the answers all I have to do is act on them.